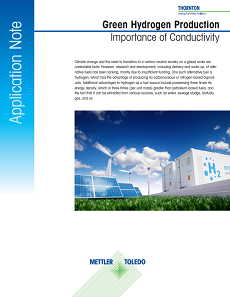 Green Hydrogen Production
Hydrogen, as an alternative fuel source, is gaining attention. In particular, green hydrogen (from the electrolysis of water where the electricity used for the process is from renewable sources) is under the spotlight.
All of the most common methods of producing green hydrogen use a stack of electrolyzers to generate large volumes of the gas. Such systems require ultrapure water (UPW) for the electrolyzer and water, or glycol:water mixtures, required to keep the fuel cell stacks cool.
The catalysts that are used in the fuel cells must be protected from contaminants; therefore, the UPW has to be contaminant free. Contamination in the coolant used in fuel cell stacks must also be avoided to prevent overheating.
For both these applications, in-line conductivity sensors provide instant notification of out-of-spec conditions.
METTLER TOLEDO Thornton UniCond sensors are designed for highly accurate conductivity measurement in high purity water and water-based fluids. These digital sensors have an exceptionally wide measurement range due to their advanced, built-in measuring circuit. This circuit eliminates the interference that can impact analog sensors, and allows a robust digital signal to be sent to the connected transmitter. 
A single UniCond sensor can accurately measure from ultrapure water to brackish water, allowing for a wide-breadth of applications with just one sensor type.