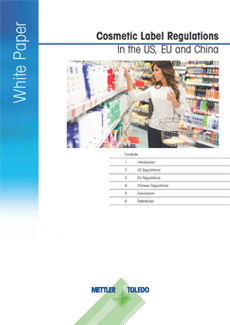 Cosmetic Label Regulations in the US, EU and China.
In order to ensure the safety of consumers, labeling regulations are in place for cosmetic products mandating the presence of information required by governing bodies. In some countries, failure to adhere to the regulations may result in an outright ban on the sale of that product in the region.
While many countries are working together to develop regulations that are aligned, significant differences in regional requirements still remain.
This white paper seeks to outline regulations governing the labeling of cosmetics in key global regions. It provides useful guidance for manufacturers already trading in these markets as well as those looking to enter.
The white paper focuses on the regulations in three major economic regions:
United States
European Union
China
Download this informative white paper to learn more
In the highly competitive cosmetics market, it is more important than ever for manufacturers to do everything necessary to make their products stand out to the average consumer. Accomplishing this goal often relies on making product labels which will catch the eye of potential consumers and effectively make an argument for the product. When designing those new labels, however, it is important to keep the legal requirements of the intended market in mind.
In recent years the United States and European Union have both attempted to unify their regulations in an effort to make trade between territories easier. However there are still some significant differences between the two regions mostly relating to local terms used for particular ingredients. Unfortunately this means that no label design exists which would satisfy every requirement. Manufacturers must therefore continue to rely on multiple label designs in order to sell into different territories, which means keeping up to date with the latest regulations
Related White Papers

As consumers become increasingly concerned about the contents of the products they use, government regulations regarding proper labeling of products h...

A white paper describing seven ways service support from a product inspection equipment supplier can help manufacturers gain food safety certification...

This White Paper provides an overview of two 360 ͦ vision inspection techniques – stitching and paneling, including the advantages and disadvantages t...

Understanding and meeting the final FSMA requirements in preparation of the Food Safety Modernization Act.
Vision Inspection Solutions