Weighing equipment in potentially explosive environments must fulfill stringent regulatory requirements to ensure process safety. Not only does that include selection and installation of suitable, certified equipment but it also applies to maintenance and service along the entire equipment lifecycle.
The Quick Note provides recommendations on how to ensure safe, compliant and productive weighing processes across your equipment's lifecycle according to IECEx standards. This includes information on  the requirements for Ex equipment, including:
Selection and installation,
Inspection and maintenance, and
Repair
Meeting Ex Regulations
The IEC (International Electrical Commission) has defined standards on how equipment for use in potentially explosive environments must be selected, installed, regularly inspected, maintained and repaired.
Selection and Installation (IEC 60079-14)
Equipment must be selected according to the hazardous-area classification and requirements and certified accordingly. Professional installation of hazardous-area scales by skilled service specialists ensures you can safely use your devices from the start.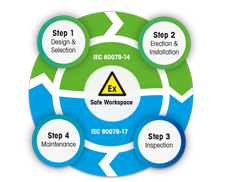 Safe, Compliant and Productive <br>Hazardous-Area Weighing at Every Step
Inspection and Maintenance (IEC 60079-17)
Over time, weighing equipment can be damaged or even degrade. That is why the equipment should be inspected periodically with maintenance performed where indicated. The international IEC 60079-17 standard requires detailed inspections at installation and following repairs. In addition, visual inspections should be conducted periodically to ensure safety of the hazardous-area weighing equipment.
Repair (IEC 60079-19)
If inspection reveals the need for equipment repair, service should be conducted by trained and experienced technicians. Only suitable spare parts should be used and procedures should be in accordance with hazardous-area and equipment-repair specifications.
Proactively maintaining a safe workplace is a very important job. Download the Guidebook to make sure your weighing equipment is always performing to the best of its abilities.