Thermal analysis methods are used in nearly all industries. They allow you to measure thermal events and material properties over a wide temperature range, from −150 to 1600 °C. We know from experience that curve interpretation is often the most difficult part of an analysis and have put our expertise into an eLearning tool and a webinar.
After the e-Learning sequence, you will be able to
properly set up TGA experiments and
interpret and evaluate TGA curves correctly.

In the final web-based seminar (webinar), we will present additional ideas to verify the interpretation of results based on curves obtained from repeat measurements of the same sample.
| | | | |
| --- | --- | --- | --- |
| Jun. 23, 2021 | 08:00 CET | 16:00 CET | |
| | 03:00 EST | 11:00 EST | |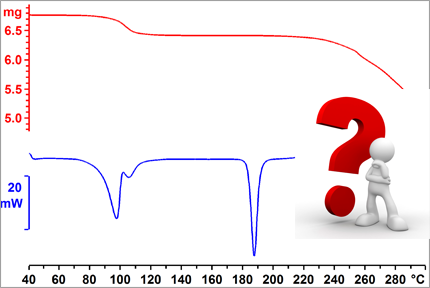 TGA Curve Interpretation – TA e-Training Registration
This Webinar covers the following topics:
Introduction
Moisture
Overlapping mass changes
Identification of evolved gases
Use of other thermal analysis techniques
Conclusions and recommendations
Summary
Webinar Presentation
Once you have registered for the webinar, you will receive all the information you need about this topic.
After the presentation in English, you will have the opportunity to discuss points of interest directly with METTLER TOLEDO applications specialists.