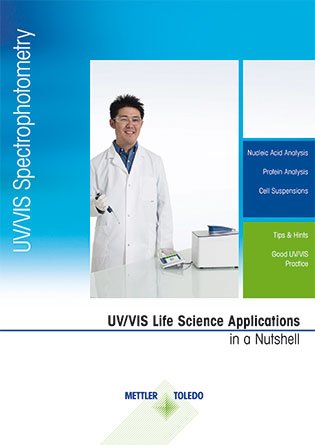 UV Vis Life Science Applications in a Nutshell
UV Vis Spectrophotometry has become a standard method used on a daily basis in many life science laboratories. This is mainly due to its simplicity; it does not require complex sample preparation, it is easy to perform and results are obtained within seconds.
A typical measurement requires only a small amount of sample, and as it is a non-destructive method, samples can be used for subsequent analyses. The field of life sciences typically applies UV Vis spectrophotometry in the analysis of nucleic acids, proteins and bacterial cell cultures.
Our  UV Vis Life Science Applications in a Nutshell guide offers a deep view into the most common applications:
Concentration determination of nucleic acids – DNA and RNA
Purity of nucleic acids
Concentration determination of proteins by direct measurement or colorimetric assays, study of enzymatic reactions, and monitoring growth curves of bacterial cell suspensions
*This product is intended for research and quality control purpose only.
---
Do you know by heart the absorbance of the individual nucleotide components part of the DNA spectrum? You don't need to! Our poster the Nucleic Acid Analysis with Absorbance Spectroscopy shows in a nutshell all key information needed to quickly and easily determinate the concentration of nucleic acids with absorbance spectroscopy.
---