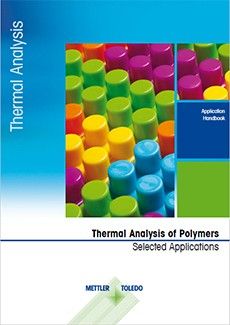 Thermal Analysis of Polymers
"Thermal Analysis of Polymers" presents several application examples of thermal analysis techniques used to characterize thermoplastics, thermosets and elastomers; these methods provide data on physical properties, transitions, aging, the effect of fillers and additives, and the effect of production techniques.

Thermal analysis techniques

The four main techniques detailed in the applications booklet are differential scanning calorimetry (DSC), thermal gravimetric analysis (TGA), thermomechanical analysis (TMA) and dynamic mechanical analysis (DMA), either alone or in conjunction.

Thermal analysis of polymers – common effects

The most important effects that can be analyzed by DSC are the glass transition, melting behavior, reaction enthalpies, and the influence of fillers.

For TGA, the main applications are content analysis, thermal stability and evaporation behavior.

TMA is normally used to study the expansion or shrinkage of materials.

DMA is the best method for characterizing viscoelastic behavior of materials.