Kinetics of Crystallization in Supersaturation
Supersaturation Control Optimizes Crystal Size and Shape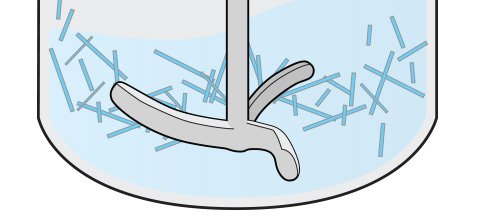 Crystallization kinetics are characterized in terms of two dominant processes, nucleation kinetics and growth kinetics, occurring during crystallization from solution.
Nucleation Kinetics - the rate of formation of a stable nuclei
Growth Kinetics - the rate at which a stable nuclei grows to a macroscopic crystal.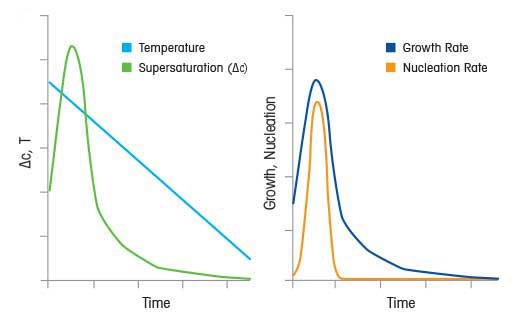 Choosing a Cooling Profile
Impact on Crystallization Kinetics
The governing equations of crystal growth and nucleation, also described in (J. Nývlt (1968) Kinetics of Nucleation in Solutions. Journal of Crystal Growth, 3 – 4, 377 – 383), show that the surface area of the crystal slurry plays an important role in determining crystal nucleation and growth kinetics. At the start of a crystallization process, the surface area of crystals present in the slurry is low – meaning nucleation can dominate over growth, regardless of other kinetic factors. As crystallization proceeds, the surface area increases and it is possible for growth kinetics to become more favorable. When a linear cooling rate is applied (as shown on the right) to a crystallization process, it is possible for supersaturation to build up initially when there is no surface area available for growth. This build up results in fast, and often, unpredictable crystallization kinetics – with nucleation often dominating.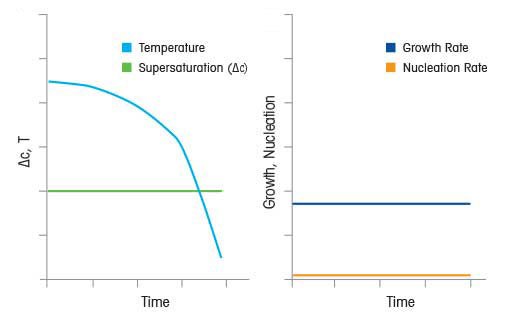 Non-Linear Cooling Rates
Constant Supersaturation
A clever technique for enhancing growth is to cool very slowly at first, when surface area is limited (as shown on the right). This keeps supersaturation low and allows growth to dominate. After some time, when surface area has increased, the cooling rate can be increased, reducing batch time, while still favoring growth. This technique strikes the right balance between controlling supersaturation and excessive nucleation, while avoiding very long batch times (P. Barrett, B. Smith, J. Worlitschek, V. Bracken, B. O'Sullivan, and D. O'Grady 2005) A Review of the Use of Process Analytical Technology for the Understanding and Optimization of Production Batch Crystallization Processes. Organic Process Research & Development, 9(3), 348 – 355). One drawback from this approach is that implementing a non-linear cooling or anti-solvent addition profile in the plant can be difficult and adds complexity to a process. However, success can still be achieved by using a small number of linear ramps, which achieve a similar result.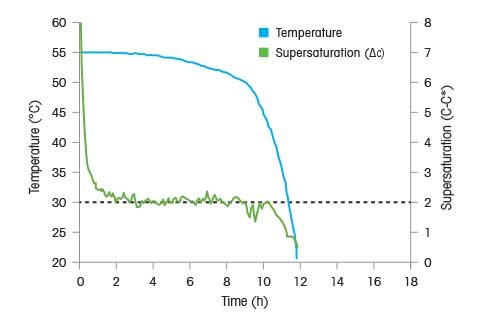 Automated Supersaturation Control
Favorable Crystallization Kinetics
The value of implementing non-linear cooling rates to keep supersaturation constant over the course of a process has been proven by implementing a control loop that adjusts process temperature in order to keep supersaturation constant. Such a result was described in V. Liotta and V. Sabesan (2004) Monitoring and Feedback Control of Supersaturation Using ATR-FTIR to Produce an Active Pharmaceutical Ingredient of a Desired Crystal Size. Organic Process Research & Development, 8(3), 488 – 494. Copyright (2004) American Chemical Society, where a control algorithm is used to perform a crystallization process at constant supersaturation (shown on the left). In this example, supersaturation is monitored using in situ FTIR monitoring and the resulting temperature profile is non-linear: slow at first, and fast towards the end.
Particle Size Analysis for Process Optimization
This paper discusses common particle size analysis techniques and how they are used for the delivery of high-quality particles. Examples include the usage of offline particle size analyzers in combination with in-process particle characterization tools to optimize processes.
Technologies to Monitor, Optimize, and Control
Crystallization unit operations offer the unique opportunity to target and control an optimized crystal size and shape distribution to:
Reduce Filtration and Drying Times
Avoid Storage, Transport and Shelf Life Issues
Ensure a Consistent and Repeatable Process at Lower Costs
Applications
Applications For Understanding Crystallization Kinetics
Publications
Publications on Crystallization Kinetics
Citations

Crystallization and precipitation citation list and publications
Related Products
Technology For Crystallization Kinetics
Fourier Transform Infrared (FTIR) Spectrometers For Real-Time Monitoring Of Chemical Reactions
Understand, Optimize & Control Particle & Droplets With Real-Time In Situ Particle Size Analyzers
Automated Chemistry Reactors Control and Record All Reaction Parameters 24 Hours a Day