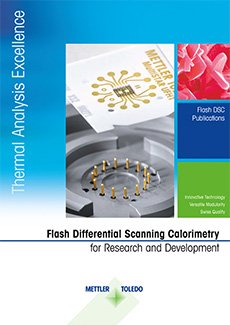 Flash DSC Technology
Flash DSC technology revolutionizes rapid-scanning DSC. The instrument can analyze reorganization processes that were previously impossible to measure and is the ideal complement to conventional DSC. Heating rates now cover a range of more than 7 decades.
Features and Benefits of Flash DSC Technology
Ultra-high heating rates – suppress reorganization processes
Ultra-high cooling rates – allow the formation of materials with defined structural properties
High sensitivity – permits measurements at low heating rates that overlap with conventional DSC
Wide temperature range – perform measurements from –95 to 1000 °C
Gas-tight measuring head – investigate samples under defined atmospheres
We compiled a list of studies that demonstrate the power of Flash DSC technology for materials characterization.
Related Content
Flash DSC Webinar
An introduction to Flash DSC technology
Flash DSC Guide
Download a comprehensive Flash DSC booklet
Fast Scanning Calorimetry Textbook
A comprehensive introductory textbook on fast scanning calorimetry at www.springer.com
(ISBN 978-3-319-31327-6)
Flash DSC Video
Learn about the main features and benefits of Flash DSC technology.
Flash DSC Conferences
Get informed on our annual Flash DSC conference hosted in Greifensee, Switzerland; some presentations are also held at the ETH Zurich.
Flash DSC Chip Calorimeter
Learn more about our Flash DSC product offering.
Special Issue
"Recent Advance and Applications in Chip Calorimetry" is open for submission now