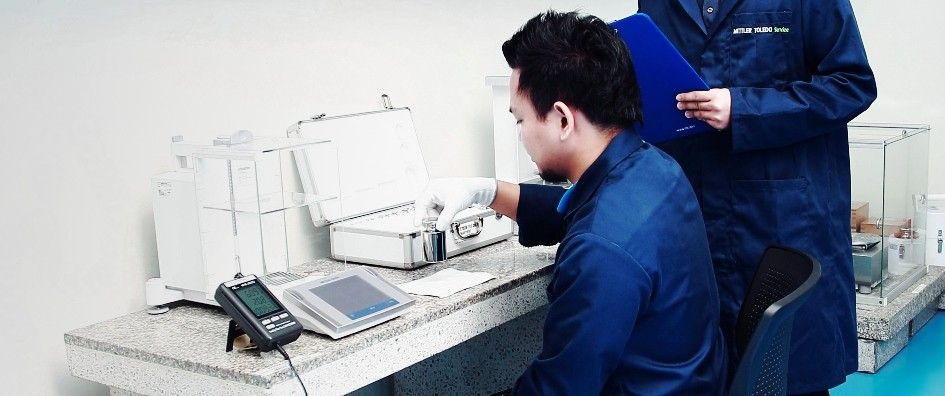 METTLER TOLEDO Service Singapore
METTLER TOLEDO Service Singapore offers a unique approach to service solutions
We believe that a service strategy should be driven by the impact each instrument has on your business goals, as measured by the consequences of inaccuracy, substandard quality, downtime or non-compliance with regulations.
Using a strategic approach, our consultative service examines how critical each instrument is to your operations and tailors a service strategy that best supports your success.
To ensure that you preserve the value of your investment, we offer a unique blend of services designed to suit your specific business needs and strategy.
We provide:
Installation
Calibration
Preventive maintenance
Repairs
We also offer user training and customer seminars on request.
Our regulatory compliance services encompass equipment qualifications and standard operating procedures. Comprehensive equipment performance validations and service records provide full traceability and strongly support audit requirements.
 
Service Offerings
METTLER TOLEDO Service Singapore is ISO/IEC 17025 accredited by SAC SINGLAS for a range of calibration services
Industrial
Truck Scales Calibration

Tank Scales Calibration

Floor & Bench Scales Calibration
Laboratory
Weighing Balance Calibration
Laboratory Analytical Instrument Calibration
Retail

Retail Scales Calibration

Metrology
Mass Comparators Calibration
Weights Calibration (Both Industrial and Laboratory)
Process
Conductivity / pH Calibration
TOC Analyzers Calibration
Ozone Sensors Calibration
Sodium/Silica Analyzers Calibration
Service Contract

---
Frequently Asked Questions

Why METTLER TOLEDO?
METTLER TOLEDO is a global manufacturer of precision instruments for use in laboratory, industrial and food retailing applications. We have a strong worldwide leadership position. A significant majority of our instrument sales are in segments in which we are the global leader. In addition to a broad product offering, we have one of the largest global sales and service organizations among precision instrument companies. With 5,000 factory-trained service specialists worldwide, you can be assured of expertise and support.