High-throughput Pipetting
BenchSmart™96 Speeds Your Workflow
Higher Efficiency in the Lab
Fast, accurate and efficient, Liquidator™ 96 is designed to speed high-throughput application workflows, without complicated programming or dedicat...

Fast, accurate and efficient, Liquidator™ 96 is designed to speed high-throughput application workflows, without complicated programming or dedicated technician time.
1. What are pipetting stations?
Pipetting stations are benchtop liquid handling systems that allow a user to pipette into 96- and 384-well plates with far fewer steps and greater accuracy than when using single, 8- and 12 multichannel pipettes. Pipetting stations range from manual and semi-automated to fully automated. In general, manual and semi-automated stations are more appropriate for research labs, while fully-automated systems are more common in production environments. As a general rule, labs that prepare more than five plates a day will benefit from a pipetting station. 
Experience the precision of automation paired with the speed and flexibility of a semi-automated pipetting system

Three volume ranges

Three interchangeable heads for versatility: 0.5-20 µL, 5-200 µL and 100-1000 µL.

Touch-screen control

The touchscreen and clear graphic menus are so intuitive, BenchSmart 96 requires little – if any – training.

Automated features

Preset modes include Basic, Advanced, Multi-dispense, Dilute, Reverse Volume Sequencing, Mixing and AutoPace.

Manual control

User has absolute control over the speed of movement, position of tips over a plate and order of plate filling.

Four trays

Simplifies and speeds workflows by reducing, if not eliminating, the need to swap out tips and reservoirs.

Small footprint

BenchSmart takes up very little bench space.

Put the speed and simplicity of Liquidator 96 to work on your 96- and 384-well applications.

Two volume ranges

0.5-20 µL and 5-200 µL models offer high accuracy and precision.

Fills 96 wells at once

Fast, virtually eliminates the risk of skipping or repeating wells.

Highly reproducible

High channel-to-channel consistency yields high quality analytical data.

Simple

No programming, training or even electricity required!

Proven

Accelerate experiments like ELISA and qPCR without sacrificing data quality.

Reliable and affordable

Built to exceptionally high quality and performance standards.

Available SBS-format reservoirs, accessories and adjustment posts to speed throughput.

Rainin BioClean LTS tips for great accuracy, precision and speedy throughput

Stacked and racked tips

Available in 20uL, 200uL and 1000uL volumes

LiteTouch System LTS

Great channel to channel consistency and precision

Many options

From normal tip to filtered and pre-sterile tip formats
Publications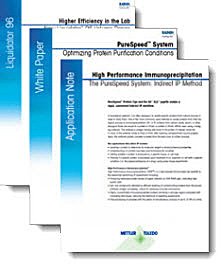 Rainin Documentation Center
Looking for product brochures, data sheets, operating instructions or white papers? Visit our documentation center for a detailed and comprehensive overview and access to all available documentation on Rainin products.
New Liquidator 96 Volume Range
Higher Efficiency in the Lab
Rainin Liquidator™ 96 is a manual 96-channel pipetting device that allows researchers to accurately and precisely dispense solutions into 96- and 384-well plates. Liquidator obviates the disadvantages of multichannel pipettes and automation systems while capitalizing on their strengths. Learn how.
CCDB Simplifies Genomic Workflow, DNA Barcoding
Liquidator 96 used in DNA Barcoding
Biological research is increasingly reliant on the ability of researchers to collect data from large numbers of samples. The faster numerous data points can be collected, the more quickly conclusions can be drawn and the sooner publications and products can reach the public. Discover how Liquidator 96 helps speed your workflow.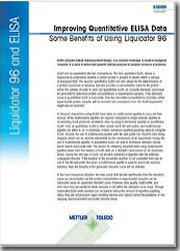 Improving Quantitative ELISA
(Enzyme-linked Immunosorbent Assay) Data
Some Benefits of using Liquidator 96
ELISA is a common technique in modern biological research. It is used to detect and quantify distinct proteins in complex mixtures of proteins. Learn how Liquidator 96 improves quantitative ELISA.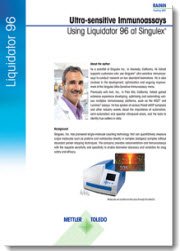 Ultra-sensitive Immunoassays
Using Liquidator 96 at Singulex®
Singulex evaluated Rainin's Liquidator 96 to see whether using Liquidator in its ultra-sensitive immunoassay protocols could help reduce operator-induced errors, total assay time and the number of repetitive steps experienced by the operators. See the results.
Customer Publications
Browse through the list of various reviewed journal articles authored by Liquidator users.