Portable TOC Analyzers
Real-time Total Organic Carbon Analysis in a Portable Analyzer
On-the-Spot TOC Measurement, Wherever and Whenever
Portable TOC analyzers offer rapid measurement of Total Organic Carbon in easy-to-transport systems. With a robust and reliable design, METTLER TOLEDO portable TOC analyzers are the ideal tool for multi-point TOC measurement for water system diagnostics, quick troubleshooting, and maintenance verification.
Easy Data Capture & Analysis with Dual USB Ports
Quickly capture and analyze results with on-board USB data collection. Measurements from your portable TOC analyzer can be taken to a computer and, using a simple export to spreadsheet program, you can review the data and create reports. Exporting to a printer supports hard-copy record keeping.
Global Pharmacopeia Compliance
Ensure system compliance with fast and simple point of use monitoring. Portable TOC analyzers from METTLER TOLEDO are designed with compliance in mind. They meet the regulatory requirements for all major global pharmacopeias, including USP<643>, EP2.2.44, ChP and JP16.
Products and Specs
Products and Specs
Filter:
Set filter
Clear All
Measurement range
Repeatability
Resolution
Measurement range0.05 - 1000 µgC/L (ppbC)
Repeatability±0.05 ppbC, ±1.0% > 5 ppb
Resolution0.001 ppbC (µgC/L)
Documentation
Datasheets

The 450TOC Total Organic Carbon analyzer from METTLER TOLEDO Thornton offers the fastest response to TOC changes available in an easily transportable...

Scheduled maintenance of your portable 450TOC drives operational efficiency by ensuring critical components are at peak performance.
Manuals

This manual details standard operating procedure for TOC calibration, conductivity calibration, temperature calibration, flow rate calibration.
Services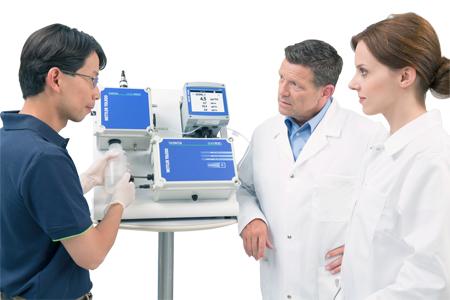 Basic Preventative Maintenance
Replacement of lamp and filter
The UV lamp and filter should be replaced every 4,500 hours of operation.

TOC calibration with MT certificate
Full calibration provided to maximize measurement accuracy and productive uptime.

System Suitability Test
If your application operates under the US Pharmacopeia a System Suitability Test will be performed. It provides evidence that system performance is adequate for TOC analysis and meets compliance requirements.