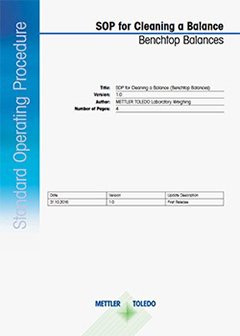 Learn how to clean an analytical balance or precision balance. Download full Standard Operating Procedure (SOP).
Scope
This SOP describes the procedure for cleaning a laboratory (bench top) balance (both analytical balance and precision balance). It is designed to instruct laboratory personnel on how to proceed for thorough cleaning of a balance. The cleanliness of a laboratory balance can have a significant impact on operational efficiency and balance lifetime, as well as user safety.
Cleaning Rules – Do's and Don'ts
Make sure personnel are instructed on how to clean balances. Incorrect handling may cause damage to the weighing system or the electronics.
First remove powder and dust, then sticky substances.
For powder and dust use a tissue. Never blow; this could transport dirt or spilled sample materials inside the balance.
For removal of sticky substances, use a damp lint-free cloth and mild solvent (Isopropanol or Ethanol 70%); avoid abrasive materials.
Do not spray or pore liquids directly on the balance.
Wipe away from cone opening (where the pan sits) or air ducts (gaps in front or at rear of the draft shield), when using cloth or brush.
Remove parts for cleaning where possible (e.g. weighing pan, drip, tray). Only remove parts that can be removed without tools and whose removal is described in the operating instructions.
If possible, do not disconnect peripheral devices unless cleaning is not possible without doing so.
Clean the balance in its working location; do not tilt, move or carry it around if you are not instructed on how to carry a balance. Incorrect handling may cause expensive damage.
Recommendations on Frequency of Cleaning
The frequency on cleaning varies, depending on industry, application and frequency of instrument use. As a general rule, METTLER TOLEDO recommends a balance should be cleaned immediately after every use or change of sample. When handling potentially toxic substances, the balance must always be cleaned after use.
Cleaning Procedure
The following steps describe the general cleaning procedure, valid for all bench-top balances. Depending on the balance type and model owned, not all mentioned steps below are valid (e.g. a 0.1 g precision balance does not have a draft shield or a wind ring).