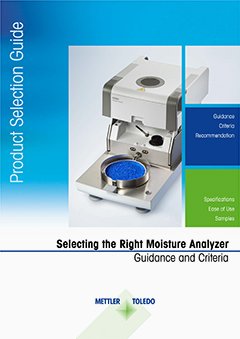 How to choose a moisture analyzer - 7 most important aspects
When selecting a moisture analyzer, you may not be sure which one is the right one for your requirements as there are so many moisture analyzer models on the market. Comparing specifications on the datasheet is important, but choosing the right moisture analyzer for your specific application goes beyond these simple specifications which don't show the complete picture. Measurement performance for your specific sample or ease of use in 24/7 shift operation are just a couple of examples of criteria which can't be found on the datasheet. Therefore, it's vital to understand the functionality and performance of the instrument from a holistic point of view. Consult the guide "How to choose a moisture analyzer" and find out how the following important aspects should influence your purchasing decision:
Sample Type and Characteristics
Operators and Ease of Use
Data Management
Instrument Performance Testing
Service and Support
Optional Equipment and Accessories
Explanation of Technical Specifications
 
What is the heating system of a moisture analyzer and why is it important?
The heating source (lamp) and its regulations are defined as a heating system. The most important performance factor is precise and fast temperature regulation, which is best delivered by halogen lamps because of their low mass and therefore fast reaction time.
Why is the sample type important for the purchasing decision?
Depending on the sample type (e.g. solid, liquid, pasty, solvent containing), it's important to use specific method parameters and accessories in order to obtain accurate and reliable results.
If you want to measure many different substances, it's advisable to use one method per sample type, even if you're using the same method parameters. Read more in the guide below:
What is the best instrument for my laboratory or production workers?
An instrument which is easy to use and guides the operator through the measurement is important when many operators are using the instrument and if you want to prevent operator errors.
How can I calibrate the device and why is that important?
Being sure about measure performance and thus moisture results is important. For this reason, routine testing of the weighing unit, the heating unit and an overall instrument test should be performed frequently. Look at the testing and adjustment functionalities of the instruments.
Watch the video on instrument performance testing with SmartCal.
Why is a fast and competent support or service important?
When selecting a moisture analyzer, as well as considering the instrument itself, it's important to consider the supplier and support network for services such as method development or instrument maintenance and repair. 
Reliable and Fast Moisture Analysis
METTLER TOLEDO is an expert in moisture analysis and offers a wide range of reliable and easy to use moisture analyzers to suit the needs of quality control, production and in-process control of many industries, such as pharma, plastics and the food industry.