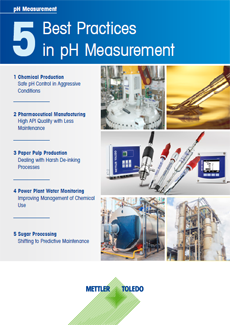 Improve bioprocessing measurements
The most common liquid process analytical parameter is pH. Its measurement and control is very important in many industries, including chemical and pharmaceutical production, pulp and paper, sugar production, as well as in power plants. pH is typically measured using glass pH sensors, which have been available for almost 100 years. They have undergone many developments to improve measurement accuracy, durability and ease of use. pH sensors today offer very high performance and are typically tailored for specific applications.
Digital technology in pH sensors offers significant benefits in respect to sensor maintenance, ease of handling and measurement accuracy. METTLER TOLEDO's Intelligent Sensor Management (ISM®) technology simplifies sensor handling, enhances process integrity and reduces sensor lifecycle costs. ISM's predictive diagnostic tools tell you in advance when a pH sensor will need to be calibrated or replaced, based on key factors including process temperature, the pH value itself and sensor slope. Reliable and robust in-line pH probes ensure dependable pH measurement in every application from harsh chemical environments to hygienic pharmaceutical processes.
In "5 Best Practices in pH Measurement", you will find articles on how you can implement high-performance pH measurement in your production. The best practices in the guide cover:
Safe pH Control in Aggressive Conditions in Chemical Production
High API Quality with Less Maintenance in Pharmaceutical Manufacturing
Dealing with Harsh De-inking Processes in Paper Pulp Production
Improving Management of Chemical Use in Power Plant Water Monitoring
Shifting to Predictive Maintenance in Sugar Production
METTLER TOLEDO's portfolio of pH sensors includes the following: