Bench Scale ICS469g-B30
Speed up Production.
Optimize your production processes
An optimal combination between terminal and weighing platform (t-, f- or c-version) leads to less production failure and speeds up your productivity.
Resist wet and harsh 24/7
All parts have been built according to the latest hygienic design guidelines supporting an easy, fast and efficient cleaning procedure.
Easy to operate
All you need for Over/Under checkweighing. Use the numeric keypad for changing of pre-tare values. The colorWeight function® improves your throughput.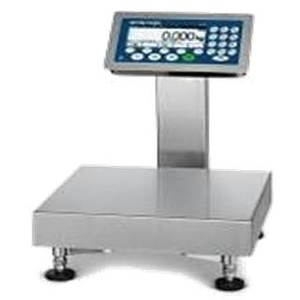 Specifications - Bench Scale ICS469g-B30
| | |
| --- | --- |
| Maximum Capacity | 50 lb (30 kg) |
| Readability | 0.005 lb (2 g) |
| Repeatability (sd) | 0.0016 lb (0.7 g) |
| Platform Size (LxWxH) | 15.7 in x 19.7 in x 5.29 in (400 mm x 500 mm x 135 mm) |
| Material | Stainless Steel V2A (AISI 304) |
| Protection Rating | IP65; IP67; IP68; IP69k |
| Display | Graphic LCD with multicolor backlit |
| Interfaces | RS232 |
| Readability (Certified) | 0.01 lb (10 g) |
| Housing | Stainless Steel V2A (AISI 304) |
| Repeatability | 0.005 lb (2 g) |
| Application Software | Counting; ; ; Simple weighing |
| Hazardous Approval | No |
| Repeatability (typical) | 0.0016 lb |
| Repeatability (typical) | 0.7 g |
| Applications | Counting; Dynamic weighing; Over Under Checkweighing; Simple Weighing |
| Data Interface | Ethernet; Serial; USB; WLAN |
| Dimensions/Platform Size | from 15.8" to 19.7"; from 401 to 500 mm |
| Environment | Wet & Harsh Wet (</=IP66) |
| Legal for Trade | NTEP; OIML |
| Interfaces (Optional) | Discrete I/O; Ethernet; RS422; RS485; USB; WLAN |
| Scale Interface | Analog |
| Voltage | AC Version; Battery Version |
| Hygenic Design | Yes |
| Maximum Capacity | 25 kg |
| Platform Type | Bench Scale |
| Readability (Certified) | 5 g |
| Material Number(s) | 22021048 |
Maximum Capacity:50 lb (30 kg)Maximum Capacity:50 lbMaximum Capacity:30 kgReadability:0.005 lb (2 g)Readability:0.005 lbReadability:2 gRepeatability (sd):0.0016 lb (0.7 g)Repeatability (sd):0.0016 lb (0.7 g)Platform Size (LxWxH):15.7 in x 19.7 in x 5.29 in (400 mm x 500 mm x 135 mm)Platform Size (LxWxH):15.7 in x 19.7 in x 5.29 in (400 mm x 500 mm x 135 mm)Material:Stainless Steel V2A (AISI 304)Material:Stainless Steel V2A (AISI 304)Protection Rating:IP65; IP67; IP68; IP69kProtection Rating:IP65Protection Rating:IP67Protection Rating:IP68Protection Rating:IP69kDisplay:Graphic LCD with multicolor backlitDisplay:Graphic LCD with multicolor backlitInterfaces:RS232Interfaces:RS232Readability (Certified):0.01 lb (10 g)Readability (Certified):0.01 lb (10 g)Housing:Stainless Steel V2A (AISI 304)Housing:Stainless Steel V2A (AISI 304)Repeatability:0.005 lb (2 g)Repeatability:0.005 lb (2 g)Application Software:Counting; ; ; Simple weighingApplication Software:CountingApplication Software: Application Software: Application Software:Simple weighingHazardous Approval:NoHazardous Approval:NoRepeatability (typical):0.0016 lbRepeatability (typical):0.0016 lbRepeatability (typical):0.7 gRepeatability (typical):0.7 gApplications:Counting; Dynamic weighing; Over Under Checkweighing; Simple WeighingApplications:CountingApplications:Dynamic weighingApplications:Over Under CheckweighingApplications:Simple WeighingData Interface:Ethernet; Serial; USB; WLANData Interface:EthernetData Interface:SerialData Interface:USBData Interface:WLANDimensions/Platform Size:from 15.8" to 19.7"; from 401 to 500 mmDimensions/Platform Size:from 15.8" to 19.7"Dimensions/Platform Size:from 401 to 500 mmEnvironment:Wet & Harsh Wet (</=IP66)Environment:Wet & Harsh Wet (</=IP66)Legal for Trade:NTEP; OIMLLegal for Trade:NTEPLegal for Trade:OIMLInterfaces (Optional):Discrete I/O; Ethernet; RS422; RS485; USB; WLANInterfaces (Optional):Discrete I/OInterfaces (Optional):EthernetInterfaces (Optional):RS422Interfaces (Optional):RS485Interfaces (Optional):USBInterfaces (Optional):WLANScale Interface:AnalogScale Interface:AnalogVoltage:AC Version; Battery VersionVoltage:AC VersionVoltage:Battery VersionHygenic Design:YesHygenic Design:YesMaximum Capacity:25 kgMaximum Capacity:25 kgPlatform Type:Bench ScalePlatform Type:Bench ScaleReadability (Certified):5 gReadability (Certified):5 g
Documentation
Accessories