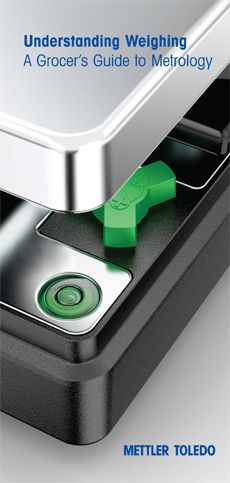 Understanding Weighing: A Grocer's Guide to Metrology
Metrology is the science of measurement, and the scientific tool at the heart of every service counter transaction is the weighing scale.
Without an efficient, easy-to-use, and above all accurate scale, profitability and customer satisfaction would be critically compromised. Dependable product measuring is essential to managing and tracking sales volume and to maintaining compliance with industry regulations.
The purpose of this guide is to identify some of the terminology associated with retail weighing technology, and to explain the importance of each term as it applies to your day-to-day business. The terms covered in this guide include:
Accuracy
Accuracy Class
Linearity
Load Cell
Corner Load
Repeatability
Temperature Stability
Scale Intervals
Dual Interval Scales

Tare
Verification
Hysteresis
Sensitivity
Geolocation
Precision vs. Accuracy
Calibration
As the world's leading manufacturer of weighing devices, METTLER TOLEDO produces scales that can measure to the nearest one-billionth of a gram to scales that can measure several hundred metric tons. We specialize in producing high quality, cost effective measuring devices that meet or exceed the exacting specifications for manufacturing, measuring, safety and the environment.