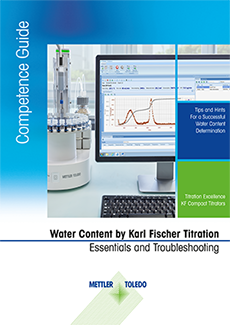 This guide offers valuable tips and hints for water content determination by Karl Fischer titration.
Karl Fischer (KF) titration has proven to be the method of choice for water content determination. It can be applied in a variety of industries such as chemicals, food, and beverages, polymers and plastics, or pharmaceuticals. However, the reliability and accuracy of results can be challenging. Several factors can contribute to the success of performing KF titration.
The guide provides tips and hints on important aspects to consider when performing KF titration, for example, the checklist of environment, equipment, chemicals, samples, users, and documentation.
Four key questions in KF Titration
What is the expected water content of the sample?
How much does the sample have to be weighed?
How is water released from the sample matrix?
Which KF reagents should I use?
The complete release of water from the sample matrix is important
Water determination in liquid samples is generally straightforward and does not involve any challenges other than improving the sample solubility to achieve a complete release of water into the KF solvent. The situation is different when the water content has to be determined in solid samples. The methods to release water from the sample matrix are summarized in the following:
Dissolution in the Karl Fischer solvent
Mechanically crushing the sample in the titration vessel
Extraction from the sample matrix with a suitable solvent
Evaporation in a dedicated KF oven connected to the titrator
Based on these methods, different sample preparation techniques have been developed and the choice of the suitable technique depends on the sample to be titrated. The different techniques are also presented in the guide.