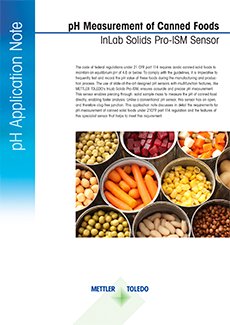 pH of canned foods
The pH of canned foods needs to be monitored and frequently tested for compliance. The acidity, or pH, of foods determines how they must be processed for canning. Canned foods are in demand due to their preservation techniques that make them possible to easily transport and store inexpensive and varied quality of high calorie, seasonal food products.
However, to protect the food from serious health risks caused by the pathogen Clostridium botulinum, and to tackle other safety concerns, 21 CFR parts (Code of federal regulations) contains guidelines to control the canned foods industry. To comply with the guidelines, it is imperative to frequently test and record the pH value of these foods during the manufacturing and production process.
Read this application note to know in details the requirements for pH measurement of canned solid foods under 21CFR part 114 regulation and discover the features of the specialist sensor that helps to meet this requirement.
Learn more about the best suited sensor for measuring pH of canned foods.
What challenges do you face when measuring the pH of canned food samples?
Check out this video to learn how using the right sensor can simplify the pH measurement when ensuring accurate and reliable results.