UC-GTT-M VCO
High-end PC-based Scale with Touchscreen Control for Self-service Areas
The UC-GTT-M VCO self-service scale is the perfect choice for retailers wanting to offer their customers maximum convenience from their self-service scales. With its fast processor and large working and hard disk memory space, the scale can also be used to advertise sales promotions on the touchscreen display or as an interactive self-service info terminal when it is not being used for weighing. User-friendly, interactive and highly accurate, the UC-GTT-M VCO opens the door to a new level of self-service shopping for customers.
The UC-GTT-M VCO is available in black and silver housing.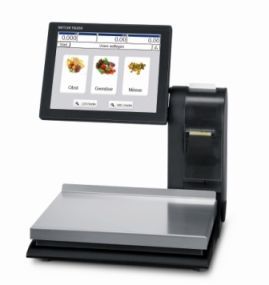 Specifications - UC-GTT-M VCO
| | |
| --- | --- |
| Description | High-end PC-based Scale with Touchscreen Control for Self-service Areas |
| Performance | 250 GB hard disc, 1024 MB memory, 8 GB SSD (optional) |
| Keyboard | Touchscreen |
| Display | 12,1'' (30,7 cm) Touchscreen in LED-Backlight-Technology, 800 x 600 Pixel, 32 Bit |
| Material Number(s) | 22022130 |
Features and Benefits


User-Friendliness
Fast, interactive and extremely easy to operate, the touchscreen menu navigation of the UC-GTT-M VCO offers your customers the utmost in ergonomics and convenience when choosing products. This means fast, problem-free weighing on the self-service scales – even at peak times – making long queues for your customers a thing of the past.



Innovative Shopping Experience
The UC-GTT-M VCO can be strategically integrated into your daily sales promotions when it's not in use for weighing. The splendid touchscreen display can be used as an effective self-service info terminal, displaying text, images or videos for original product presentations, recipe suggestions or special offers.



Visual Sales Promotions
By advertising promotions and cross-selling offers on the self-service scale, you can increase impulse purchases and also your turnover for both your food and non-food ranges. Whether it's gourmet week, a salad dressing tip or time for a feast, the UC-GTT-M VCO stirs up your customers' appetite and puts your offers in the forefront of their minds.



State-of-the-Art Design
Slim, elegant and perfectly formed, the UC-GTT-M VCO self-service scale fits perfectly in a modern and contemporary shop design. The daily maintenance of the scale is made easy thanks to its durable and easily cleanable surfaces.


 
 
 
Documentation