The measurement of a sample is an important part of the analysis but proper interpretation is even more important. The interpretation must be correct in order for you to draw the right conclusions. You can often vary one or more experimental parameter and so obtain additional information that supports your assumptions or in other cases provides a new insight into the properties of the material.
Sometimes, only complementary techniques provide the complete picture.
In this e-Training course, you will learn how to interpret individual measurements and get tips and hints on how additional information can be obtained using DSC-related techniques such as Flash DSC, High-Pressure DSC, Microscopy, Chemiluminescence, and Dynamic Mechanical Analysis.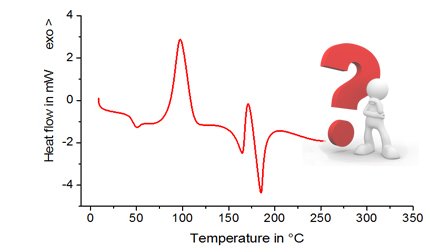 DSC Curve Interpretation – Thermal Analysis e-Training
We also offer On Demand webinars (webcasting or broadcasting) at www.mt.com/ta-ondemand
More information about Thermal Analysis Instruments and Software can be found at www.mt.com/ta.
| | | | | |
| --- | --- | --- | --- | --- |
| Title | Description | Date | Cost | Registration |
| DSC Curve Interpretation | Learn how to interpret DSC curves and draw the right conclusions | March 24, 2021 | 100 USD | View details |