Automated Pipetting — Rainin MicroPro
Portable, Affordable 96-Channel Pipetting
MicroPro is a compact 96-channel automated pipetting system that offers precision and faster-throughput when working in 96- or 384-well formats. At 32 cm tall, 19 cm wide and weighing just 5.1 kg, Rainin MicroPro 20 and MicroPro 300 pipetting workstations are the smallest 96-channel automatic pipettes available. MicroPro wirelessly connects to a high-resolution tablet that puts powerful, intuitive functionality right at your fingertips.
Add 1 or 2 more products to compare
Advantages of Automated Pipetting
Simplify Protocols
From the easy tip ejection and programmable pipetting depth to precise speed control and the ability to save complex, multistep protocols, the Rainin MicroPro automated pipetting system has been designed to reduce operator error and improve reproducibility on the lab bench. Read more
Your Research Assistant
MicroPro goes beyond simply adding and mixing reagents by offering convenient features such as aliquot dispensing, sample dilution with mixing and multi-aspirate with mixing.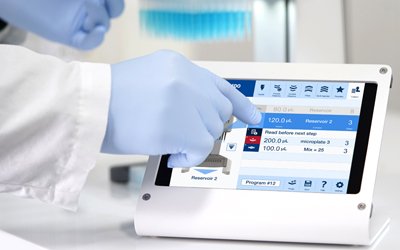 Save Workflows
Easily define and save a complete sequence of pipetting, instruction and timer steps to simplify work for any operator.
Documents

Download the datasheet for the MicroPro 20 and 300. Rainin MicroPro 96 channel benchtop pipettors simplify and streamline the work of 96- and 384-well...

This user manual covers both the MicroPro 20 and the MicroPro 300 models. All functions within the app for each model are the same.

Download the EU declaration of conformity (DoC) for the Rainin MicroPro semi-automated pipetting system.
Expert Service – Tailored to Fit Your Pipetting Needs
METTLER TOLEDO supports and services your pipettes through their entire life-cycle, from good pipetting techniques to preventive maintenance and calibration to equipment repair.

Order Pipette Service & Calibration