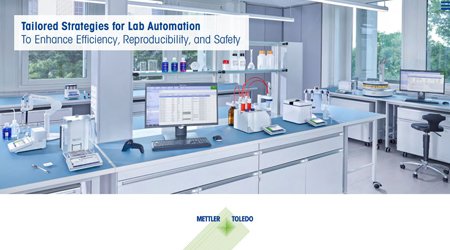 Improve efficiency and reproducibility through lab automation. Learn more about single and multiple sample automation solutions with the lab automation guide.
Automation can make laboratory work more productive and reproducible, in addition to improving safety and ergonomics. It also enables experiments that cannot be performed manually, at least within the same timeframe. 
METTLER TOLEDO's Lab Automation Guide presents options to automate at varying throughput. Both "process" automation solutions touching on a single portion of a larger procedure and those for the automation of an entire, multistage, "workflow" are addressed, along with related instruments, accessories and software. Download the guide for a panoramic overview of our portfolio and the advantages it can offer you.
 
The degree of automation present in any lab will depend on a number of factors, including the types of protocols undertaken, requirements for data accuracy and/or compliance with regulations, and necessary throughput.
Even in research laboratories or in industries not subject to stringent regulation, automation can yield important benefits. For example, certain processes undertaken manually are error-prone, subjective or simply time-consuming, and incorporating automation both boosts accuracy and permits other work to be performed in parallel. When many samples of the same or similar kinds must be measured, the time-savings can be considerable.

Yet for specialized applications such as multiparameter analyses or the optimization of chemical syntheses, the benefits are greater still. In the former case, an automated system can augment data reproducibility by permitting simultaneous measurements of a single sample with several assay types (such as pH, density, refractometry, UV Vis spectroscopy); in the latter, by allowing the co-variation of several experimental parameters, both reactions and yields can be improved over a short timescale.
For more information on METTLER TOLEDO's broad automation portfolio, and to make your workflows faster and your laboratory more efficient, download the Lab Automation Guide now.