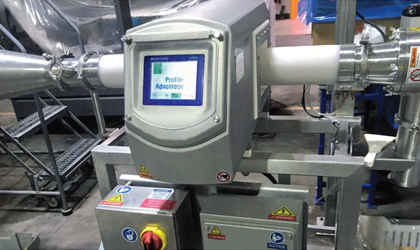 Jewel Date Company

Jewel Date Company
The Jewel Date Company is in a sweet spot, with health-conscious consumers driving the popularity of dates as an alternative to refined sugar. Founded in 1995, Jewel Date manufactures whole dates, date butters, date sugars and date pastes for energy bars and more. To protect their product quality while meeting rising demand, they selected METTLER TOLEDO Safeline's most advanced metal detector – the Profile Advantage – and installed one pipeline system and two conveyorized systems.
Rugged and Dependable: World-Class Equipment
"When we decided to replace our aging metal detectors, we knew we needed world-class equipment. Dates are high in moisture and natural minerals, so they're difficult for most metal detectors to accurately inspect," said Steve Luicci, Operations Manager at Jewel Date. "We gave samples of our products to several suppliers, and they sent back reports about their capabilities. The Profile Advantage, which offers multi-simultaneous frequency operation, had the best results. I know from past experience that Safeline equipment is extremely rugged and dependable. Their great test results and a glowing recommendation from our sales rep simply sealed our decision to go with them."
Click below to download the full case study.
Protection for Challenging Applications
"Before we got the new metal detectors, our date paste was especially challenging to inspect," explained Luicci. "Our old system couldn't handle hot product, so we had to freeze the date paste in bulk packages before inspecting it. Not only did this waste five days of time and cost a lot in energy use, we also had to move the product between two buildings. Plus, the old metal detector had a lot of false positives."
Maximum Sensitivity, Minimal Waste
"The pipeline Profile Advantage has completely transformed our operations. Since it handles hot date paste, we no longer need to freeze it. On top of that, the pipeline structure improves our yield – previously, a reject meant an entire 40-pound [18 kg] bulk package of frozen date paste was lost. Now, the efficiency of the pipeline's diverter valve means only a pound or two of date paste is rejected when the detector is triggered," said Luicci.