Pipette Controller Pipet-X
Ample flexibility for a wide range of liquid transfer and measurement options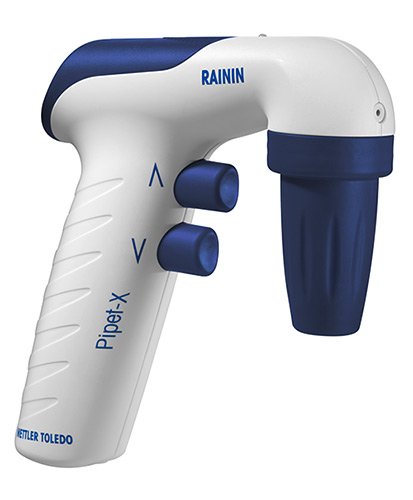 Pipette large volumes with confidence
The Pipet-X pipet controller lets the user sample large volumes (up to 100 ml) and offers the flexibility needed for a wide range of liquid transfer and measurement applications. Pressure-sensitive speed control allows smooth aspiration and dispensing to be performed with many types of liquids. With selectable gravity or blow-out (motor assisted) dispensing, high volumetric accuracy can be achieved. The angled grip allows ergonomic use in a laminar-flow cabinet. Pipet-X is designed for use with volumetric and graduated pipettes, plastic or glass, in the volume range of 0.1–100 ml.

Products and Specs
Products and Specs
Filter:
Set filter
Clear All
Description
Volume Range
Order No.
DescriptionPipet-X Pipet Controller
Volume Range0.1ml - 100ml
Order No.17011733
Documentation
Operating Instructions

This manual provides a complete overview of the operating instructions for the Pipet-X Manual Pipette Controller.
Brochures

Download your free copy of our product catalog today or have a look at our products online in our ebook! This catalog not only contains detailed infor...