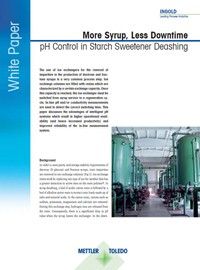 White Paper: More Syrup, Less Downtime
The use of ion exchangers for the removal of impurities in the production of dextrose and fructose syrups is a very common process step. Ion exchange columns are filled with resins which are characterized by a certain exchange capacity. Once this capacity is reached, the ion exchanger must be switched from syrup service to a regeneration cycle. In-line pH and / or conductivity measurements are used to detect the correct switching time. This paper discusses the advantages of intelligent pH systems which result in higher operational availability (and hence increased productivity)
and improved reliability of the in-line measurement system.
Find out in our latest white paper: