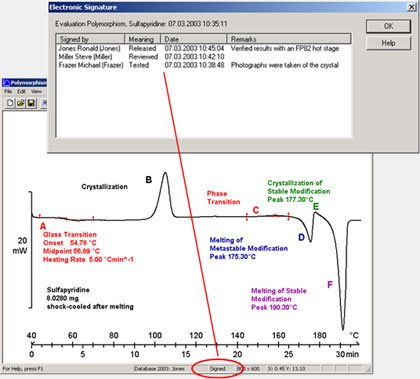 21 CFR Part 11 Compliance
The CFR STARe software option allows the user to work with a compliant system under FDA regulations. The purpose of FDA regulations is to ensure the integrity, trustworthiness and reliability of electronic records.
METTLER TOLEDO's STARe software complies with the challenges presented by the FDA regulations, such as managing the record, data backup, audit trails, security and access control.
In this Webinar, we will introduce the requirements assigned by FDA related to electronic data management system and our METTLER TOLEDO solutions to keep your thermal analysis work with ease and satisfactorily in regulatory environment.
The Webinar covers the following topics:
Introduction
What is 21 CFR part 11?
Requirements for compliance
Features of STARe software
Features/ Solutions of Stare software
- Access control
- User Level management
- Electronic records
- Audit Trails
- System Validation
- Connectivity to LIMS
Summary
21 CFR Part 11 compliance is obligatory for all healthcare industries that manufacture or export their products in or to the U.S. market.
Key objectives
Part 11 is designed to help FDA-regulated companies benefit from the use of electronic data management. In short, it gives detailed guidelines on how to manage electronic records and electronic signatures in order to maintain accuracy and security.
The key objectives of Part 11 regulations include:
ensuring the generation of trustworthy and reliable electronic records; and
the ability to detect and keep track of any alterations to electronic records.
The STARe software solution
GMP and 21 CFR Part 11 compliance means providing additional security to the data management system.
The STARe software is designed as a closed system, more precisely an environment in which system access is controlled by persons who are responsible for the content of electronic records present on the system.
In order to achieve this compliance, the STARe software provides password access-control to the application, assigns user-rights for each user-level, ensures file integrity with electronic records, and properly logs the audit trail and electronic signatures.