Rail Weighing
Heavy-duty scales for weighing rail cars in either static or coupled in-motion applications
Rugged designs for durability
METTLER TOLEDO rail scales offer rugged designs for durability in numerous configurations, combined with advanced POWERCELL® weighing technology for lasting reliability and high accuracy.

Rail scale systems are available for static weighing, and for weighing rail cars that are coupled together and in-motion. Coupled-in-motion (CIM) rail weighing provides the ability to weigh multiple rail cars and entire trains in a fraction of the time.


Improve performance of your rail scales
METTLER TOLEDO also offers combination scales designed to weigh both rail cars and over-the-road trucks on a single scale.

Custom-engineered rail solutions can meet the needs of large or special projects with unique requirements for configurations and integration.

Upgrades are also available to improve the performance of existing rail scales. This can include converting older mechanical lever-style rail scales to modern load cell systems as a cost-effective alternative to a new scale.


Publications
Case Studies

In every country, legal-for-trade laws allow some margin of error when determining the required accuracy of truck scales. To protect against product a...

To ensure the safety of its heavy rail transport, a mining operation in Australia needed more than a standard rail scale. For maximum efficiency, this...

What would happen to your equipment if your site flooded? A major chemical producer did not know what to expect when they faced a massive flood, and w...
Magazines

Vehicle weighing can be the constraint step of a process, a potential bottleneck that affects a facility's overall throughput.

When vehicles stop moving, they stop making money. In-motion weighing enables you to increase throughput by weighing vehicles without stopping them o...

In today's competitive market, you can't afford to ignore a vehicle scale's potential to improve your operation's productivity. Find out how your sc...

Businesses are robbed every day without even knowing it. When theft occurs at a vehicle scale, management often has no idea what was stolen or who too...
Related Products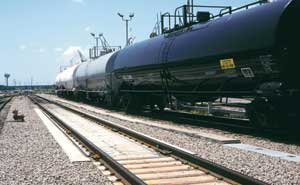 Designed for easy and accurate weighing of rail cars to speed up throughput without compromising safety.