Chemical Synthesis
Constructing Important Molecules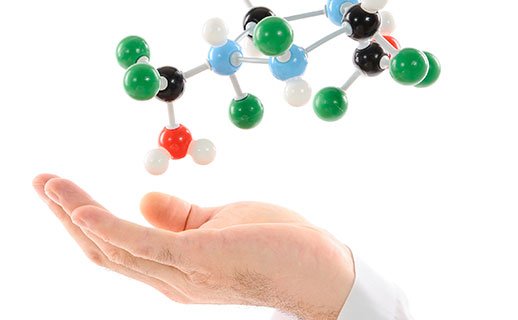 What is Chemical Synthesis?
Chemical synthesis describes the physico-chemical transformation that occurs when two or more simpler molecules combine in a controlled fashion to produce a more complex chemical product. Often, chemical synthesis is far more complex than A+B -> C, and mixtures can occur containing product(s) and by-products. 
Chemical synthesis is employed in the development of all commercially important products in pharmaceutical, polymer, fine, and bulk chemical industries. The success of a chemical synthesis, which is defined as producing the target molecule with the correct economies and quality, is related to an efficient use of reactants and reagent via a thorough understanding and control of reaction variables.    
Modern Chemical Synthesis
Modern chemical synthesis is responsible for all manufactured organic- and inorganic-based products developed to benefit civilization. Modern chemical synthesis requires that the processes that creates these products are well-understood, well-controlled, and produce results that meet economic, quality, and safety objectives, while at the same time minimize environmental impact.
Modern chemical synthesis employs sophisticated hardware and software technologies to ensure the fundamental objectives of quality, safety, and yield. These tools extend from chemical development, where a thorough understanding of reaction kinetics, thermodynamics, and effect of reaction variables on achieved results is fully characterized, to manufacturing where quality control and process stability are keys to economic success.
Chemical Synthesis Laboratory
In recent years, the chemical synthesis lab has undergone significant changes. The classic analog of chemical synthesis tools, such as round bottom flasks, heating mantles, cooling baths, and stirring devices, are now rapidly being replaced by precise, digitally controlled synthesis technology that result in far more reproducible reaction control.
The manner in which chemistry is performed is changing as well. Classical chemical batch reactions are being replaced by continuous flow reactions that offer better yield, higher quality, and safer reactions. In support of these new chemical synthesis approaches, analytical equipment in the chemical synthesis lab has also changed. Offline, manual, wet chemical, and chromatography methods are rapidly giving way to online or inline real-time analysis and automation. This move away from single point, offline measurement to data-rich, real-time analysis, supports one of the major trends in modern chemical synthesis, Quality-by-Design (QbD).
Chemical Synthesis Technologies
Modern chemical synthesis in both lab and production require advanced support technologies that meet the requirements of quality, safety, and productivity. EasyMax, often equipped with calorimetric capability, is used in pharmaceutical and chemical development laboratories to optimize reaction variables, for faster scale-up, for measuring reaction thermodynamics and to ensure process safety. EasyMax is a superior technology to support Design of Experiment (DoE) studies and other methods that mathematically relate experimental parameters and performance.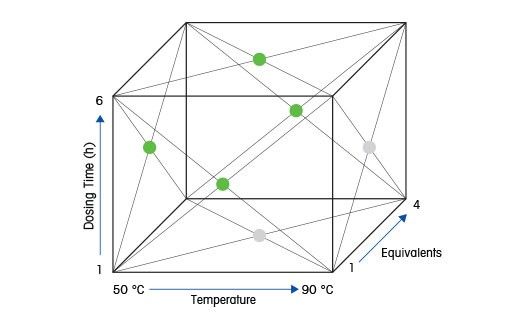 Design of Experiments (DoE)
for Optimized Reaction Conditions
Researchers in chemical synthesis often apply Design of Experiments (DoE) to maximum information when planning controlled experimentation. Product composition, stereo-specificity, yield, and impurities are optimized by changing reaction conditions such as temperature, solvent, catalyst, and concentrations of substrate or reagent. Efficient investigation of the influencing factors with only a small number of experiments requires experiments to be conducted under well-controlled, accurate and reproducible conditions. All of this preferably takes places automated or semi-automated at small scale and can quickly lead to optimized reaction conditions.
Chemical Synthesis Instrumentation
New Techniques for Better Chemistry
Small volume chemical synthesis workstations allow chemists to quickly and efficiently carry out experiments day and night with control over temperature, mixing, dosing and pH.  Combining automated lab reactors with unattended, representative sampling or in situ analytical tools provides an additional level of process development understanding from particle size to the molecular level of reaction route, kinetics and reaction progression. These chemical synthesis workstations are easy-to-use, highly repeatable and interconnected through software control and data sharing.
Innovative Techniques
To Synthesize Breakthrough Molecules
Discover how researchers apply effective methods to develop new synthetic pathways and optimize critical process conditions. 4 case studies highlight how leading pharmaceutical companies expand chemical synthesis lab performance.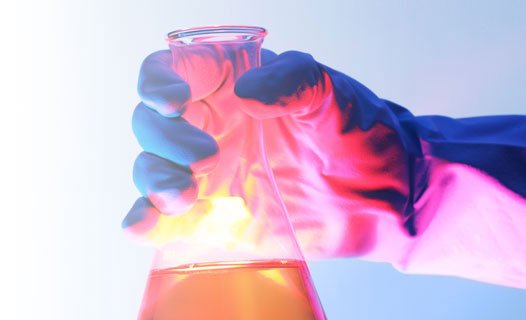 Scale-Up and Optimize
Highly Reactive Chemistries
Highly reactive chemistries have potentially hazardous reactants, intermediates and products and often involve highly exothermic reactions. Ensuring safe operating conditions, minimizing human exposure, and gaining the maximum amount of information from each experiment are key factors in successfully designing and scaling-up highly reactive chemistries. In situ reaction monitoring is critical since highly reactive materials are often unstable which limits offline sampling. Examples include chemical synthesis of Grignard reagents.
Applications
Synthetic Organic Chemistry Applications
Publications
Publications on Synthetic Organic Chemistry
Webinars

This presentation discusses the implementation of Fourier Transform Infrared (FTIR) reaction monitoring technology to provide knowledge and understand...

Shane Grosser discusses how Merck's Process Development Intensification Laboratory develops new tools and methods to increase the speed and decrease t...

This webinar explores a graphical analysis approach to rationalize unusual kinetics in C-H activations. The Reaction Progress Kinetic Analysis (RPKA)...

This presentation discusses the implementation of Fourier Transform Infrared (FTIR) reaction monitoring technology to provide knowledge and understand...

Learn how Design of Experiments (DoE) is applied to chemical synthesis at Lonza Peptide.
Citations

Continuous measurements from infrared spectroscopy are widely used for obtaining reaction profiles, which are used to calculate reaction rates. This...
Related Products
Synthetic Organic Chemistry Tools
Fully Automatic Sampling, Including Sample Capture, Quench at Reaction Conditions, Dilution and Dispensing into a Vial
Automated Chemistry Reactors Control and Record All Reaction Parameters 24 Hours a Day
Fourier Transform Infrared (FTIR) Spectrometers For Real-Time Monitoring Of Chemical Reactions