Press Release: Introducing the New SevenCompact Duo Benchtop Meter
Multitasking in the lab has never been easier with this new dual channel benchtop meter from METTLER TOLEDO.

The new SevenCompact Duo dual channel benchtop meter combines high quality pH/mV and conductivity measuring technologies in one instrument. It is a reliable workhorse that increases the efficiency of pH and conductivity measurements in various measuring applications in biotechnology, chemical, food and beverage, and academia segments.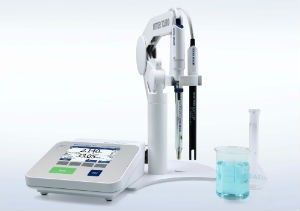 Press Release: Introducing the New SevenCompact Duo Benchtop Meter
Operate instinctively
Measuring pH and conductivity should never be time-consuming or complicated. With the SevenCompact Duo, measurement can start immediately with one single keystroke. Despite a compact, space-saving design, the meter boasts a large 4.3-inch color display, allowing users to comfortably navigate through the simple and intuitive menu, available in 12 languages.

Trust your results
Well-balanced measuring specifications ensure great performance in nearly all pH or conductivity related lab measurements. Through the unique Intelligent Sensor Management (ISM) functionality, SevenCompact Duo is able to automatically recognize any ISM-sensor, ensuring users always use the correct and properly calibrated sensor. Once the pH and conductivity measurements are complete, the GLP support functions, including GLP-printouts and PIN protected user modes, guarantee that the trusted, high-quality data is completely traceable and can only be viewed by authorized individuals.

Enjoy a long lasting investment
Designed to maximize your pH and conductivity measurement efficiency, SevenCompact Duo's robust, IP54 design using high quality materials warrants a durable instrument. Comprehensive service and after sales support guarantee smooth operation even months and years after initial certified installation.
The new SevenCompact Duo dual channel pH/mV and conductivity benchtop meters also offer many additional features and benefits. Find out more about SevenCompact Duo.
 
For Word file and Images please contact us.