November 13, 2021 - Greifensee, Switzerland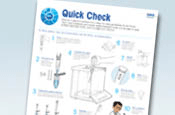 New Poster: Quickly Check Your Pipette Performance
Periodically assessing whether or not pipettes are performing within tolerances is an excellent way to ensure data integrity and reduce your overall risk. The accuracy of most pipettes can be easily verified using a gravimetric balance – the method of choice for pipette performance testing.
Balances with integrated performance check functionality
For quick, reliable pipette checking, METTLER TOLEDO offers a complete solution consisting of the following elements:
Evaporation traps: Easy to install, there are even 100mL traps available for pipettes up to 10mL.
Built-in application: Users are guided through the pipette checking procedure. Test dates and results are stored.
RFID EasyScan: The EasyScan system on XPE balances allows you to easily check and track pipettes which are RFID enabled or tagged.
METTLER TOLEDO has just launched a new Rainin quick check poster that provides all the information required to do a quick pipette performance check. The poster explains in ten easy-to-follow steps how anybody in the lab can check the performance of their pipettes.