Think Lean for Better Performance
Typical manufacturing wastes have basic similarities regardless of the part or component produced. By following lean management principles in weighing, you can bank on high-quality products, prompt deliveries, and reductions in inventory and time.

Learn more with the lean manufacturing brochure which highlights production wastes in detail and shows how smart weighing solutions can help avoid them.
Accurate fast checks
How weighing helps you become more lean
Eliminating waste is the core aim in lean manufacturing. Weighing devices are perfect tools for manufacturers to use at process points where waste typically occurs to increase overall process and product quality.  The following examples will give you an overview of how you can make use of weighing equipment to solve problems in your process and save time and money
No incomplete deliveries with completeness checks

Shipping packages with too few or too many parts is one of the most common challenges for manufacturers and leads to rework, time constraints and increased costs. Scales can be configured to address your specific needs. You can simply check your packages for completeness before shipment or determine the total weight of a box and let the scale indicate to the operator when a target weight is reached.

Accurate fast checks
Detect product faults with weighing quality control
The challenge of quality control is to maintain consistent product quality under time pressure. Scales are the versatile option to check a wide range of products. By checking weight deviations, single-parts control can be executed regardless of product shape, size or weight. Control the length of cables, the completeness of assemblies or the amount of lubricant with METTLER TOLEDO compact scales.

Eliminate wrong handling of your equipment with user-friendly solutions
Human errors are one of the biggest sources of production faults. Bad lighting, shift work or poor concentration can lead to operator mistakes. METTLER TOLEDO scales are easy and safe to use. This heightens output quality. Easily set scale-user profiles and avoid false settting changes. The scale can also prompt the operator step-by-step and use color so they can see quickly and effortlessly when a target weight is reached.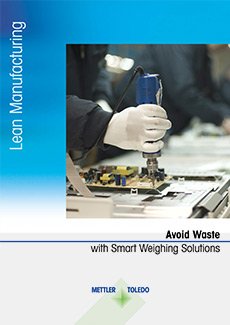 Support your lean initiatives with smart weighing devices. Reduce waste and improve process speed.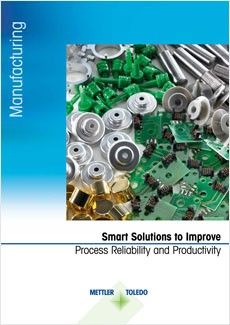 In manufacturing, it's essential to keep processes under control while improving productivity. In the new Manufacturing Competence Brochure, you will find all information necessary to simplify your weighing and measuring tasks for improved profitability.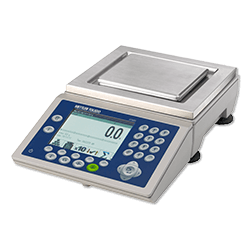 Bench scales specially designed for counting applications