New Catalog Designed with Usability in Mind
We are proud to launch our redesigned Industrial Weighing Catalog. Easier to navigate, the new design will help you quickly locate the products you need to create an efficient, cost-effective industrial weighing solution.
New Scale Catalog: Free, Easy-to-Use
Our redesigned industrial catalog helps you create an efficient, cost-effective solution. See how our full range of instruments and services from weigh modules to floor scales can help.
You obtain:
high uptime
fewer bad batches
easier QC, compliance
smooth data management
seamless traceability
Consistent layout
A more consistent layout page-to-page will make it easier for you to locate what you need to know in order to create your ideal weighing, batching, formulation, counting, filling, dimensioning or quality control solution. Easy-to-read comparison tables help you find the features that fit your specific application.

New product highlights

On the first few pages, you will find new product highlights. Corresponding page numbers send you right to the source for details.
Highlights include accurate PBK9 & PFK9 Platform Scales, which eliminate the need for additional small-item scales, and IND570 & 590 Terminals, which combine flexibility in connectivity with advances in performance verification to provide accuracy, reliability, efficiency and traceability. Parcel & pallet weighing and dimensioning solutions such as TLX Basic and XS100 DualScale significantly reduce processing time, enabling increased throughput and revenue recovery.

Continuous improvement
As your complete solution guide, the catalog offers information on our full range of precision instruments and services from floor scales to weigh modules for applications in quality control, production and logistics. Discover how you can improve your processes to obtain:
sustainable accuracy

high uptime

reduced waste and fewer bad batches

better fill/quality control

easier regulatory compliance

effortless data management

seamless traceability


We look forward to helping you enhance your organization's productivity via our value-driven, easy-to-use solutions. Order your copy of the catalog today.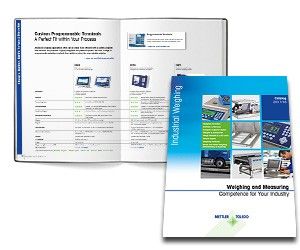 Industrial catalog