E4 Pipette Multi E8-1200XLS+
The Future of Pipetting-Now.
E4™ XLS+ 8-channel pipette, 100-1200 μL, uses LTS™ LiteTouch™ tips. Consistent sample pickup, all channels. Simple operation, advanced modes. Password-protection (E8-1200XLS+)
Unsurpassed Functionality
Intuitive operation with joystick graphical navigation. Multiple modes for any pipetting needs. Save favorite protocols to reduce workflow and errors.
Stress-free precise pipetting
Lightweight, with the lightest tip ejection forces and supreme precision across all channels, the E4 XLS+ keeps you pipetting stress-free all day.
Complete compliance and configurability
Password protection of settings, protocols and service alarms for SOP adherence and GLP/GMP compliance. Tailor the pipette configuration for any task.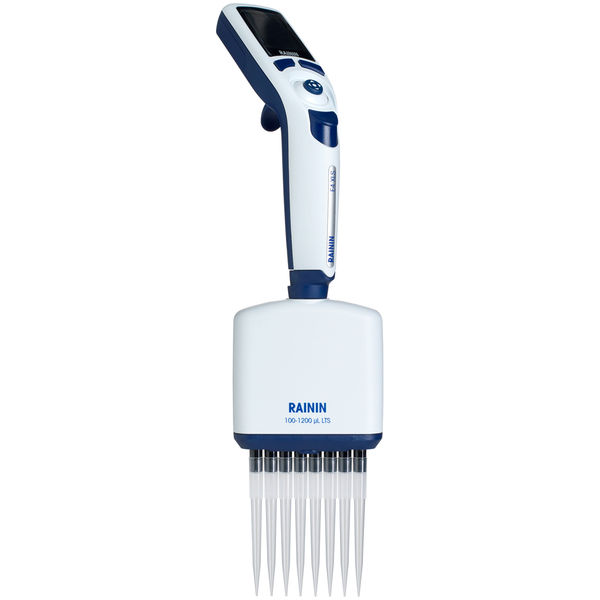 Speed Your Workflow
For high-throughput work, nothing compares with the E4™ XLS+™ Multichannel. Fast loading, easy to handle and absolute precision and consistency across all channels are Rainin hallmarks. Increase your productivity and speed your workflow with Rainin's most fully featured and easy-to-use electronic pipette.

Pipette settings, protocols and service alarms can be password protected for GLP/GMP compliance. What's more, GLP data, such as service records, cycles and status data is completely tamper proof.

Your data is everything – trust the E4 XLS+ multichannels to deliver!
Product Family:multichannel-pipettes00030007
Specifications - E4 Pipette Multi E8-1200XLS+
| | |
| --- | --- |
| Volume Range | 100 µL ; 1,200 µL |
| Increment (electric) | 1 µL |
| Volume | 100 µL; 600 µL; 1,200 µL |
| Accuracy ± (%) (µl) | 3.6 % ; 3.6 µL ; 0.8 % ; 4.8 µL ; 0.8 % ; 9.6 µL |
| Precision ± (%) (µl) | 0.6 % ; 0.6 µL ; 0.2 % ; 1.2 µL ; 0.15 % ; 1.8 µL |
| Tip Technology | LiteTouch System LTS |
| Channels | 8 |
| Maximum Volume | 1,200 µL |
| Pipette Type | Electronic |
| Material Number(s) | 17014498 |
Volume Range:100 µL ; 1,200 µLVolume Range:100 µLVolume Range:1,200 µLTip Technology:LiteTouch System LTSTip Technology:LiteTouch System LTSChannels:8Channels:8Pipette Type:ElectronicPipette Type:Electronic