Pipette Tips GPS LTS 250µL 960A/10
LTS Tips.
Green-Pak™ SpaceSaver™ stacked refills, 250 μL max. volume, for Rainin pipettes with LTS™ LiteTouch™, 960 tips in 10 layers of 96.
Gain bench space, reduce waste
SpaceSaver packs multiple refills into a compact sleeve that not only saves space but is made from PET, so easy to recycle. Place the sleeve over the empty rack to quickly dispense 96 tips at a time.
80% less waste than conventional racks
The environmental solution for rack refilling. Fast, safe, saves considerable space and produces less waste. Made from highly recyclable materials.
LTS tip design
Feel the difference with the Rainin LiteTouch System. LTS dramatically reduces the amount of force required to load and eject tips. The result: less fatigue and less stress on hands and arms.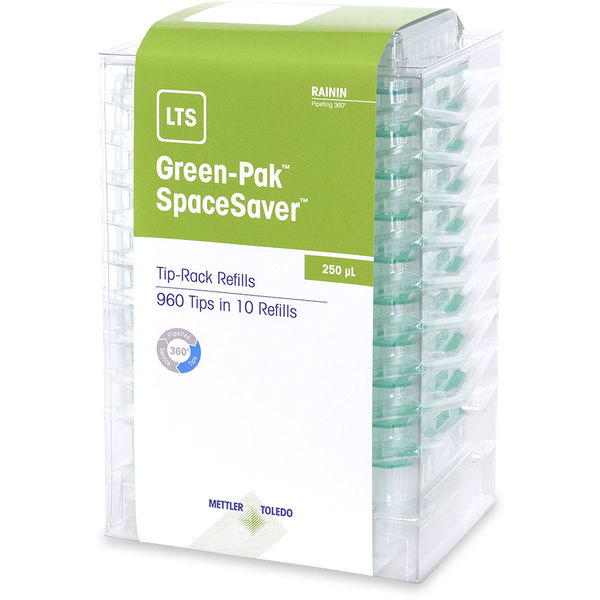 Specifications - Pipette Tips GPS LTS 250µL 960A/10
| | |
| --- | --- |
| Tip Technology | LiteTouch System LTS |
| Volume | 250 µL |
| Filter | No |
| Sterilized | No |
| Maximum Volume | 250 µL |
| Amount/Quantity | 960 tips in 10 refills |
| Material Number(s) | 30389299 |
BioClean Ultra
BioClean Ultra tips are free of detectable DNA, DNAse, RNAse, Endotoxin, ATP, protein, protease and PCR inhibitors.