7560 Concrete Deck Truck Scales
Durable Concrete Deck Scales
Model 7560 is a concrete deck scale for weighing over-the-road legal vehicles. It is a composite design that uses an 8-inch-thick concrete deck with a modular steel framework. The concrete pans come from the factory ready to receive concrete without any field welding or rebar placement required. This simplifies installation and ensures the overall quality of the deck.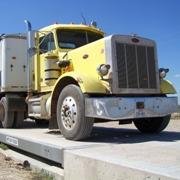 Specifications - 7560 Concrete Deck Truck Scales
POWERCELL Load Cells
POWERCELL® MTX® load cells are proven to perform with a successful history of nearly one million cells in service worldwide. POWERCELL MTX high-speed weighing technology includes an on-board microprocessor that continually adapts to changing external influences to provide you with the most accurate scale possible.

7560 Concrete Deck Truck Scales
Composite Structure
This design combines the superior compressive strength of concrete with the high tensile strength of steel to provide an exceptionally durable weighbridge that will deliver years of reliable service.

7560 Concrete Deck Truck Scales
Lightning Protection
The specially designed StrikeShield™ lightning protection system helps prevent costly downtime by using multiple levels of protection to safeguard your entire scale system: load cells, cables, and terminal. It is the only system that has been tested by third-party laboratories and withstood multiple lightning strikes without failure.

7560 Concrete Deck Truck Scales
Proven Performance
Using the "Module Masher" accelerated-life-cycle test stand, we have tested actual scale modules for 2 million cycles with a minimum live load of 60,000 pounds (equal to 20 years of truck traffic). This is one of the ways that METTLER TOLEDO goes beyond the competition to provide the most reliable scales in the industry.

7560 Concrete Deck Truck Scales
Documentation