TLW250 Dynamic Scale
Essential Performance Weighing.
Easy Integration into any Sorter
Wide range of options for integration into any sorting system. Select technology, dimensions and configuration for a seamlessly integrated solution.
Excellent Weighing Performance
Accuracy you can depend on at high speeds and in tough industrial conditions. This cost-effective solution does not compromise on performance.
Multi-Lingual Operation
Designed for ease-of-use, the weighing terminal is pre-configured with multiple languages to support global business relations, training and service.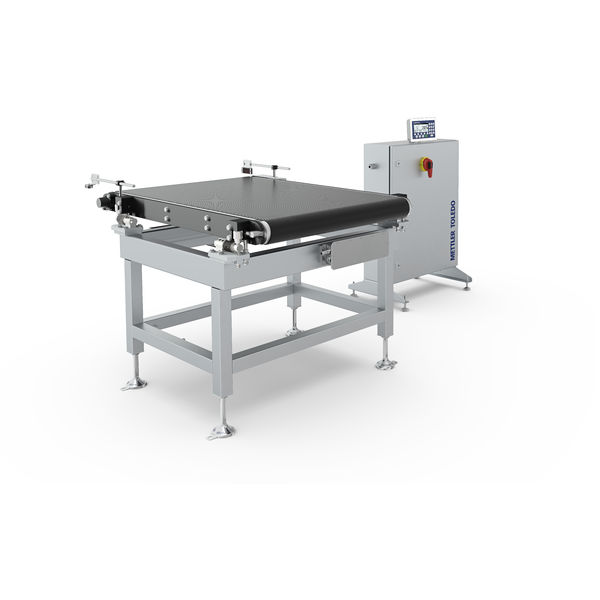 Specifications - TLW250 Dynamic Scale
| | |
| --- | --- |
| Transport Height (Garvens) | 280 mm - 1 800 mm (± 50 mm) |
| Weighing Range (Garvens) | 10 g - 40 kg / 10 g - 80 kg |
| Product Width (Garvens) | 1100 mm |
| Weighing Technology (Load Cell) (Garvens) | EMFR; SG |
| Accuracy (Garvens) | from ±5 g / from ±20 g |
| Throughput (Garvens) | 7500 pph |
| Production Environment (Garvens) | Dry |
| IP Rating (Garvens) | IP 54 |
| HMI (Garvens) | HMI ICS469 |
| Material Number(s) | 24012101 |
Low Cost of Ownership
A high level of standardization, rugged design and minimal number of spare parts required for service combine to keep scale downtime to a minimum. The system is easy to maintain, providing low cost of ownership over time.
Technology for your Budget
Choose between MID or NTEP approved EMFR load cells for legal-for-trade applications or analog strain gage load cells as a more economical option. Choose your load cell based on your budget and operational requirements.
Effective Data Communication
More than 10 data communication standards, including Ethernet and Fieldbus technologies ensure compatibility with other systems for seamless communication.
Sets Standards in Safe Design
The TLW250 complies with the following safety standards: US-based: ANSI B155 -2011, NFPA 70, NFPA 79, ANSI B11 TR3, ANSI Z244, ANSI Z535. EU-based: EN12100, EN60204-1, EN14121, EN294, EN349, EN953, EN61000-6,2,3,4, ISO 3864, ISO13849-1,-2, ISO 60528.
Tamperproof Data Storage
Safe, tamperproof data storage guarantees that weighing results are legal-for-trade and can be used for invoicing.
Documentation