CSN840 Pallet™
Profitable Pallet Handling
Easy to install and easy to use, the CSN840 calculates the dimensional weight of a shipment for correct classification, pricing and invoicing. This allows transport companies to offer fair, visible pricing while benefiting from revenue recovery and better utilization of space and resources.

The system is fully approved by global weights and measures authorities and offers high accuracy for all shapes and surfaces including shiny, black plastic.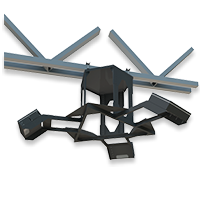 Take a look at the CSN840 Pallet™ in action in this product demonstration video:

The CSN840 Pallet™ can be configured to suit your specific operational requirements. It can be floor, ceiling or wall mounted.
Optional features include image capture, taring and extra large measuring.
Specifications - CSN840 Pallet™
| | |
| --- | --- |
| Accuracy | ± 20 mm (± 0.5 in) |
| Throughput | Approx. 200 pallets per hour |
| Object shape | All shapes |
| Interface | General Ethernet (TCP/IP) or Standard host (RS232) |
| Software accessories | OCTO™ DataCapture Software |
| Max object size (l x w x h) | 1830 x 1830 x 2600 mm (98 x 98 x 102 in) |
| Min object size (l x w x h) | 200 x 200 x 200 mm (8 x 8 x 8 in. ) |
| Power supply | 230 V 50 Hz, or 100-115 V 60 Hz |
| Measurement_Time | ~ 5 sec |
| Trade Name | Pallet solution,Pallet scanning,Pallet dimensioner,Cargoscanner |
Features and Benefits

Any Shape, Any Surface
Carriers lose the most money on big, bulky freight. Three measuring heads see pallets from all angles, providing accurate measurement of any shape. Large optics let in enough light to handle any surface, even difficult-to-measure wrappings, such as black plastic.

Increase Operation Flow
Out of the way of forklift traffic, overhead mounting makes it easy to position pallets under the dimensioner with no slow-down in operation. Dimensions are captured in under 5 seconds and seamlessly integrated with weight and ID data. Robust design and no external moving parts minimize risk of down-time.

Take a Picture of Each Pallet
The image capture feature allows you to add a picture of each shipment to the data profile. Pictures are a valuable customer communication tool and provide proof of condition, content  and measurement using a legal-for-trade system.

Easy to Install, Easy to Use
Professional service technicians will have your dimensioner up and running in only a few days. The system is easy to learn and easy to use. Simply place the pallet under the dimensioner and trigger it by your preferred identification method, a scale or by pressing the Dim Button.
Documentation