Rectangular Sig Touch Metal Detector
Integrated metal detection.
When integrated with conveyor solutions, Signature Touch metal detectors provide intuitive, fully automated product inspection for a wide range of food and non-food applications
High Sensitivity and Performance
Using tuned frequency technology with enhanced noise and vibration immunity, delivers high levels of sensitivity.
Simple to Use and Improves OEE
Intuitive, easy to use icon driven touchscreen with product clustering allows single setting operation to drive productivity and increase OEE.
Maximum Uptime
Condition Monitoring and automatic balance control combine to deliver a long-term stable operating platform to improve performance and maximize uptime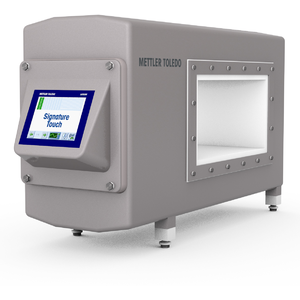 Product Family:MetalDetection00030019
Specifications - Rectangular Sig Touch Metal Detector
| | |
| --- | --- |
| Brand Protection | High sensitivity to Ferrous, Non-Fe & S/S metals |
| Compliance | Supports FSMA & all GFSI codes including BRC & IFS |
| Increased Productivity | World class reliability and long term performance |
| Cost Reduction | Stable operation with zero false rejects (FRR) |
| Ease of Use | Single setting mode via auto product clustering |
| Future Proof | Upgradable design to meet future requirements |
| Material Number(s) | 28015488 |