NEW - Release of ProdX Version 2.6
The latest version, V2.6, provides several new features that improve the existing functionality of the software, such as the area dashboard in the web client and device-specific X-ray product parameters. The V13 vision system can also be connected to ProdX, and automatic triggers for final evaluation and reports are available. Other enhancements include the C12/C16 special rejecter and sequential product or batch changeover. ProdX V2.6 is available via electronic delivery. Customers with a SoftwareCare contract can upgrade to V2.6 free of charge.
ProdX™ Food Safety and Quality Management Software
Maximizing Operational Efficiency Through Digitalization
ProdX™ is a complete quality inspection data management system that delivers full digital management of your product inspection equipment for real-time monitoring and food safety compliance.
Keep Pace With the Digital Evolution of Food Safety Requirements
ProdX™ is a dynamic food safety software solution that's seamlessly scalable from single site device installations to multiple devices in globally diverse site locations. It's designed to support rigorous quality control procedures and manage:

Production and efficiency
Quality and compliance
Data communication
3 Ways To Experience What ProdX Can Do For You
We offer 3 no obligation methods to demonstrate what prodX can do to support your business goals and compliance requirements:
Online virtual demonstration
Onsite demonstration in your facility
60 day trial installation
Click on the button below to let us know which is the most convient for you
Benefits of ProdX™ Inspection Data Management Software
An advanced QMS software for the food industry supporting Industry 4.0 Smart Factories.
ProdX™ saves labor costs by automatically collecting production data and publishing reports within seconds. Investing in ProdX™ now means any costs upfront can be offset in just a few months to a year. You can gain:
Higher data visibility and improved control
Improved efficiency and productivity
Full lifecycle support
Enhanced Security and Functionality
Prepare for connectivity to the latest data-protective Blockchain technology:
Central User Management – provides individual access rights and roles for specific users or groups
Data Reliability – inspection data is stored on a tamper-proof central server which can be hosted on-site or in a data center
Traceability – all data can be traced back to a single device, product, batch or user
Data and Documentation for Quality Managers
ProdX™ food quality management software records inspection data from multiple product inspection technologies to completely log and document all events and actions, offering:
Immediate access to data, demonstrating compliance with national and international laws/standards
Support for the fulfillment of retailer audits
Enablement of quicker and more targeted reactions to quality incidents
Reduced manual effort to document quality incidents and take remedial actions
Simplified and faster collection and compilation of data from multiple production line systems
Access Your Data from Anywhere, at Anytime
Access the full functionality of ProdX™ remotely, using your standard company secure connection:
Monitor the health and status of your inspection devices in real-time

Receive immediate notifications on all events
Administer all settings
Generate and view all reports and incident logs
Set up notifications to send emails or alerts to your mobile device if there is a quality or production issue that requires immediate attention
Software Care - Service and Support Package
 
Software Care
Standard
Software Care
Comprehensive
Software Evolution
Notification of and access to new software releases within the purchased license deck
X
X
Deploy Software Remotely
Electronic deployment of new software releases
X
X
Support Software Remotely
Technical assistance via remote methods, like telephone, email or remote connection
X
X
Deploy Software Onsite
On-site installation of a new software release by a METTLER TOLEDO field service technician
—
X
Repair Software Onsite
On-site support to solve problems or technical issues
—
X

Software Care gives you peace of mind that ProdX™ is always up-to-date to meet the ever-changing compliance, production and IT landscape requirements. It ensures the quickest reaction times from our dedicated pool of software specialists to ensure the optimal system performance at all times.

Related Content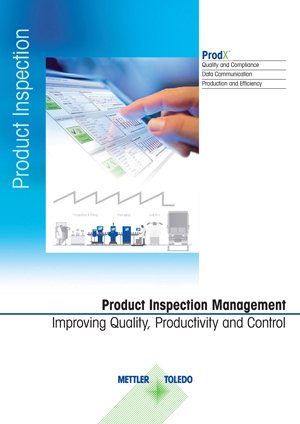 ProdX™ Data Management Software
ProdX™ allows you to connect and control your entire product inspection management process from a single point or from multiple remote locations, eliminating the need for time-consuming production line patrols. Read more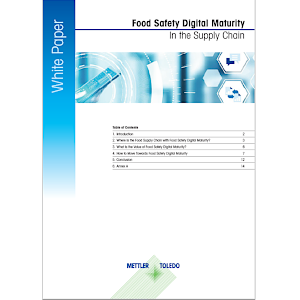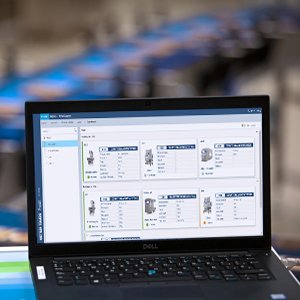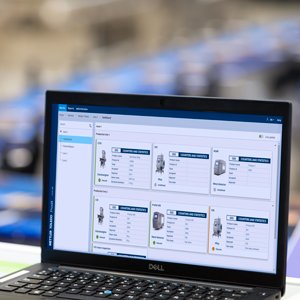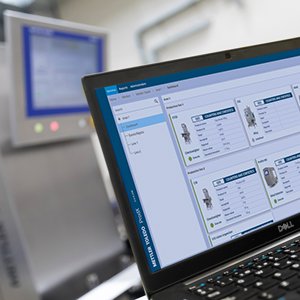 FAQs
What does quality management software do?
ProdX™ Software by METTLER TOLEDO automatically records product inspection equipment testing routines, rejected items and quality relevant incidents. This advanced monitoring and record keeping functionality supports compliance with current food safety standards, legislation, and regulations.
ProdX™ supports regulatory compliance with the following international standards:

IFS, SQF, BRCGS, OIML, FSSC22000, HACCP, HARPC, FPVO, MID
ProdX™ keeps up-to-date with emerging standards, future-proofing production lines and maintaining high levels of compliance.

What are the benefits of QMS software?
ProdX™ has many valuable benefits, which can be expensive to implement separately in a Manufacturing Execution System (MES). It offers an integrated MES/ERP interface (OPC UA Server) to simplify network integration, supporting Industry 4.0 and Smart Factory global initiatives.

With ProdX™ Food Safety and Quality Management Software:
Each device is connected to ProdX™ using a single standard protocol
Checkweighers from other manufacturers ("3rd party CW") can also be connected
ProdX™ only needs to be connected once
New METTLER TOLEDO device connection is seamless
All device data can be made instantly available to the SCADA/MES/ERP using an in-built OPC-UA server
Without ProdX™ Food Safety and Quality Management Software:
Each device is separately connected to the network
Each device may use different connectivity protocols (CP) depending on age and options
Each device must be separately configured
Data available to the SCADA/MES is limited
What is Quality Management System software?
The ideal Quality Management System software, or QMS software, is designed to help manufacturers monitor and properly store their product inspection data, satisfying global and local quality and compliance needs. It can streamline administrative effort through digitalization, allowing multiple devices to be monitored from one location, and offers backup cloud storage. It can reduce the complexity of data management and monitoring, supporting the growing demand for remote audit capability and complete traceability.
ProdX™ is a complete inspection management and connectivity software solution for METTLER TOLEDO Product Inspection devices across the widest range of manufacturing industries. Its advanced data redundancy capabilities and communication architecture make it seamlessly scalable from single site, single device installations up to multi-site and multiple time zone international installations.
What is OPC UA?
OPC UA is an industrial communication standard, which ensures the open connectivity, interoperability, security, and reliability of industrial automation devices and systems. OPC UA is widely recognized as the key communication and data modeling technology for the Industry 4.0 initiative. It works with many software platforms, is completely scalable, and has been widely adopted by several industries because of its flexibility.
What are the benefits of OPC UA?
Openness and interoperability between hardware, software, and services are key in helping manufacturers transform how they operate and create solutions that benefit productivity. OPC UA is the communication technology for Industry 4.0 and is essential to reaching this next level of connectivity in manufacturing facilities.
Benefits of OPC UA:
It is a global, open standard
It is independent and belongs to no single entity
It provides an extensible data model which easily integrates with new technologies
It is secure – managing access, authentication, validation, and encryption
It is a cost-effective way to connect IIoT
What type of product inspection equipment can be managed by food safety and quality management software?
How is digitalization in food and beverage manufacturing making for a more sustainable future?
The food and beverage manufacturing industry plays a critical role in the global economy. Whether for health and nutrition, palate pleasure, or social and traditional gatherings, the availability and affordability of food and drink is important to consumers.
Unfortunately, meeting the demands of a growing population for affordable and sustainable food and beverage options is becoming increasingly difficult. The need for larger and faster production facilities makes the impacts to the environment more significant. Growing energy requirements, overall resource consumption, and harmful emissions and waste products contribute heavily to the issues of climate change, deforestation, and pollution.
With the age of digitalization, there can be smart solutions to these problems. "Smart" products are becoming more commonplace in the home, but we're also seeing how smart products and digitalization can play a crucial role in improving sustainability in manufacturing, particularly the food and beverage industry. Many manufacturing facilities are taking advantage of "The Internet of Things", commonly known as IoT. In general terms, IoT refers to a system of digital devices, sensors, machines and other objects that have individual unique identifiers (UIDs) and can connect over a network to automatically share and transfer data - without requiring human interaction. Below we discuss five ways that digitalization can help food and beverage manufacturers improve efficiency, save money, and do their part for the environment.
1. Improved Energy efficiency
There are many ways that implementing smart technologies within manufacturing facilities can decrease energy consumption, lower energy bills, and reduce overall carbon emissions. Smart meters can be installed to monitor daily energy usage, providing real-time feedback to manufacturers so they can adjust their energy consumption to satisfactory levels. Automation systems help control energy usage by automatically turning off energy-draining equipment when it's not in use. Smart sensors are strategically placed within the facility to detect the presence of workers in a room, adjusting lighting and temperatures accordingly.

2. Waste reduction
With digitalization, it becomes simpler and more efficient to reduce waste by-products and optimize waste management. IoT sensors connect to the network of food processing equipment within a production facility, collecting data and monitoring for specific changes to alert manufacturers the moment that equipment needs to be cleaned or serviced. AI algorithms are then used to analyze data and identify areas where waste can be reduced. Big Data analytics can combine the data to predict waste generation patterns and plan waste management strategies accordingly. With the digitalized optimization of waste management, we can reduce waste generation, promote recycling, and reduce the environmental impact of waste disposal.

3. Sustainable packaging
Reducing the environmental impact of food packaging is essential and is achievable through digitalization. 3D printing can be used by manufacturers to create customized packaging designed specifically to the product, cutting down on materials and improving product protection. Increasing the use of plastics made from biodegradable and compostable materials, (commonly known as bioplastics) in packaging means any discarded packaging will break down over time instead of taking up room in landfills. Smart packaging can monitor for freshness to help reduce the amount of wasted or spoiled food.
4. Sustainable production
IoT and AI can be used to optimize production processes, reduce emissions, and decrease energy consumption. IoT Sensors are set to monitor production equipment and notify manufacturers the moment it needs to be maintained or replaced. AI algorithms analyze overall production data to identify specific areas where energy consumption and emissions can be reduced.
5. Sustainable water management
Water is a limited essential resource, and it's important to reduce unnecessary waste or pollution. With digitalization, water management can be more sustainable, leading to significantly less water waste. IoT sensors can be used to monitor water usage and identify areas where it can be conserved. AI algorithms then analyze the data and identify opportunities to reduce water consumption. Digital twins (virtual, digital copies of an object which are used in simulation scenarios) can be designed to simulate water usage and identify ways to optimize water management. With these digital assets in place, manufacturers can reduce their overall water consumption, lower their water bills, and decrease their environmental impact to water resources.
In our age of digitalization and growing environmental challenges, it's now more essential and more viable for food and beverage manufacturers to improve their sustainability within a global market. With increased energy efficiency, reduced waste output, eco-friendly packaging materials and design, optimized production processes, and improved water management, manufacturers not only reduce their environmental impact and promote sustainable practices – which looks great to consumers – they can also improve their bottom line.