XMV TE
3-in-1 Serialization System.
Integrates three applications into one compact serialization system. Printing, visual code verification, and secure tamper-evident sealing for compliance in global traceability.
Advanced 3-in-1 Package Processing
The system provides serialization, mark and verification, and tamper-evident sealing to help ensure compliance for EU FMD 15415.
Compliance for Tamper Evidence
The system applies tamper-evident seals to cartons after serialization in accordance with the EU delegated act 2011/62.
Fully Automated Serialization
Supporting throughputs of up to 300 ppm for automated item-by-item serialization that includes tracking, printing, and verification.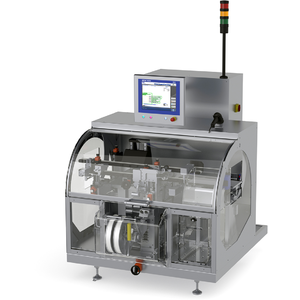 Product Family:Trach&Trace00050011
Specifications - XMV TE
Track & Trace Solution

Serialization
Product Types

Cartons
Oriented

System Design

automated
Reading Devices

Smart Camera
Number of Reading Devices

up to 3
Throughput

up to 300 ppm
Compatible Software

PLM Direct
PLM Serialization

Dimensions (H x W x D)

2297 x 1449 x 1681 mm
Product Height

20 - 100 mm
Product Width

65 - 200 mm
Product Length

25 - 200 mm
HMI

15"
15""

Supports a Wide Range of Product Sizes
This highly flexible system is suitable for a large variety of product types and sizes up to 200mm width. Additionally, the XMV-TE provides easy and quick product changeovers.

Advanced Process Safety
Increased compliance with a complete enclosure with electronic locks preventing access during production providing additional operator safety. The transparent enclosure allows full visibility of the production run.

Datamatrix Grading Capability
In-line analysis of the datamatrix code print quality during the production process according to ISO 15415 – supports advanced line performance.

Compact System Design
Turnkey solution saves valuable production space and ensures quick and simple integration into new or existing production lines. Inside deflectors and a bottom plate contribute to easy and fast production line clearing.

Central Track & Trace Management
Use PCE Line Manager (PLM) software for complete line control of production processes for serialization. Choose PCE Site Manager (PSM) for enterprise integration with site-wide IT infrastructure.

Prepared for the Future
Meets current regulatory requirements such as EU delegated act 2011/62 EU and related tamper-evident norm EN 16679. Easily upgrade the software to meet future compliance requirements as needed.

Global Service Support
A global network of service experts provides fast remote and on-site support. Our comprehensive service offering allows you to achieve regulatory compliance, high performance, and maximum uptime throughout the life cycle of your product inspection equipment.