PCE Site Manager
Central Track and Trace Site Management.
Site-wide management of production lines, enabling data visibility of the entire Track and Trace process. The PSM further provides advanced connectivity to ERP or MES systems, expanding existing processes for inventory management or line control.
Raise Productivity with Data Automation
The PSM offers connectors to MES or ERP systems, increasing the automation of transaction data and preventing the need for multiple manual entries.
Complete Site Management
Management of serial number pools, orders, and products across the production site, for instance status updates of each line controlled by the PLM.
Seamless Software Integration
The PSM easily connects to existing inventory management systems such as MES or ERP, thus integrating into enterprise-wide system processes.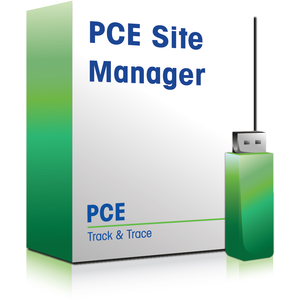 Product Family:Trach&Trace00050020
Specifications - PCE Site Manager
Track & Trace Solution

Aggregation
Serialization
Site Management

Operating System

Windows Server
Site Database

MS SQL Server
Oracle

IT Integration

Active Directory
Connectivity

Arvarto (XML)
SAP ATTP (EPCIS)
TraceKey (EPCIS)
Customized Connectors
SAP XPATH (XML)
Tracelink (XML)

Security

Firewall
Languages

English
Italian
French
Portuguese
German
Spanish
Dutch

Platform

Web-based Application
Reporting Engine

No
Software Levels

limited connectivity to level 4
Level 3

Number of Production Lines

unlimited
SAP® Certified Partner
The PSM software integrates seamlessly with SAP® applications on site, avoiding disruption to existing processes. As a long-term certified SAP® partner, PCE has deep knowledge of all relevant interfaces and protocols used for Track and Trace scenarios.
Easy and Secure Data Connectivity
The PSM is a web-based application and therefore accessible from any device with a web browser in the network. Securely connect via PC, tablet, or mobile phone with credentials on an ecrypted connection to easily monitor production lines from anywhere.

Support Compliance
The solution is designed to support the regulatory conditions in your region. Compliant with US FDA 21 CFR part 11 audit trail requirements, as well as GMP and CE standards and ISO practices.

Pay as you Grow
The PSM is available in 3 different licensing options: PSM Standard, PSM Professional and PSM Enterprise. The solution is licensed according to the number of production lines it manages at the site.

Support for Multiple Lines at Sites
The PSM provides a dashboard of your production lines and visualizes all relevant information on screen. Additionally, PSM offers the possibility to maintain and configure all relevant serialization, aggregation, or connectivity processes centrally.

Global Service Support
A global network of service experts provides fast remote and on-site support. Our comprehensive service offering allows you to achieve regulatory compliance, high performance, and maximum uptime throughout the life cycle of your product inspection equipment.

Documentation