PCE Line Manager - Direct
All in One Track and Trace Solution.
PLM Direct is the right software choice for serialization and aggregation running on a dedicated single production line. Data exchange with Level 3 and 4 systems is handled using standard XML formats, for easy integration into existing processes.
Regulatory Compliance
Full support for global coding scenarios such as GS1/non-GS1 to achieve compliance with EU FMD 2011/62/EU and US DQSA/FDA 21 CFR part 11 requirements.
Pre-Installed for Fast Setup
The pre-installed software offers out of the box and fast on-site setup without complex integration into the IT infrastructure.
Fully Customizable
Adaptable software supports a wide range of manufacturing processes by simply modifying pre-defined coding scenarios as required.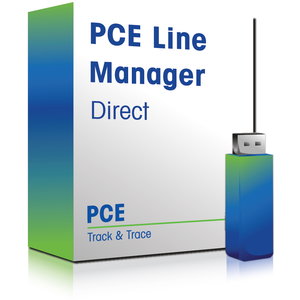 Product Family:Trach&Trace00050018
Specifications - PCE Line Manager - Direct
| | |
| --- | --- |
| Software Levels | limited connectivity to level 4; Level 3 |
| Number of Production Lines | 1 |
| Track & Trace Solution | Aggregation; Serialization; Site Management; Mark & Verify |
| Material Number(s) | 56107500 |
Track & Trace Solution:Aggregation; Serialization; Site Management; Mark & VerifyTrack & Trace Solution:AggregationTrack & Trace Solution:SerializationTrack & Trace Solution:Site ManagementTrack & Trace Solution:Mark & Verify
Complete Track & Trace Software
One solution to manage a single production line for serialization and aggregation, with an option to exchange data with level 3 and 4 systems.

Open Communication Standards
Direct integration into MES, ERP, or preferred cloud systems. Using the open standard XML to exchange order data and serial numbers.

Prepared for the Future
The software can easily be upgraded as the number of production lines increases or more complex aggregation requirements are introduced.

Global Service Support
A global network of service experts provides fast remote and on-site support. Our comprehensive service offering allows you to achieve regulatory compliance, high performance, and maximum uptime throughout the life cycle of your product inspection equipment.