Bioburden Analyzer 7000RMS Online
Rapid Monitoring of Bioburden in Water.
The 7000RMS is an online water bioburden analyzer for real-time measurements of microbial contamination in pharmaceutical waters. This at-line analyzer offers a rapid microbial method solution for controlling your water system.
Instant Real-time Microbial Detection
The 7000RMS delivers continuous monitoring of water with results every two seconds. It requires no sample preparation or incubation period.
Accurate Counting of Microorganisms
Advanced laser-induced fluorescence and Mie scattering technologies are used to count microorganisms present in pharmaceutical grade water systems.
Improves Process Control
The analyzer provides a history of trends in your water system prior to an out-of-specification event, helping to find the root cause of contamination.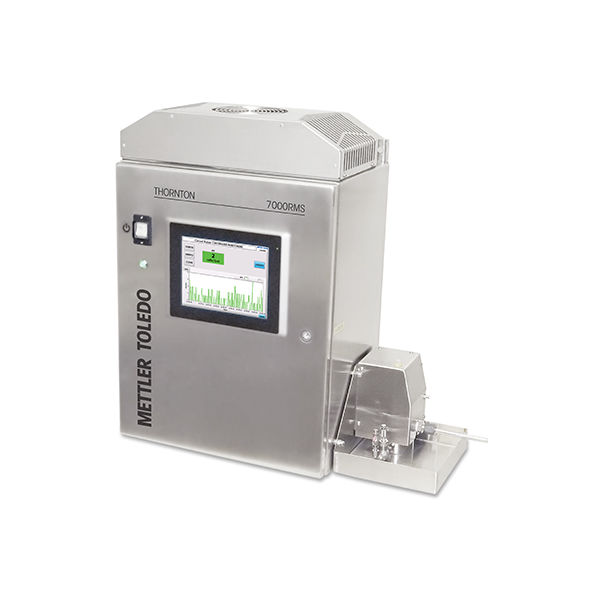 Product Family:microbe analyzer00020001
Specifications - Bioburden Analyzer 7000RMS Online
Operating Range (Temp.)

0 °C – 37 °C
Operating Range (Humidity)

10 % – 90 %
Flow Rate

30 mL/min – 100 mL/min
Dimensions (HxWxD)

616 mm x 564 mm x 305 mm
Analysis Time

Continuous
Environment

Pollution degree 3
Wall Mount

Anti-vibration shelf required (P/N 58 079 700)
Minimum detection size

≥ 0.3 μm
Inlet pressure

Process pressure above 80 psig (5.5 bar(g)) requires optional High Pressure Regulator (P/N 58 091 552)
21 - 80 psig (2 - 5.5 bar(g))
Calibration, cleaning and grab sample requires sample pressure of 0 psig (0 bar(g)

Humidity (non-condensing)

80% maximum relative humidity up to 31 °C (87.8 °F) decreasing linearly to 50% relative humidity at 40 °C (104 °F)
Ambient temperature (non-condensing)

1 - 37 °C (32 - 98.6 °F)
Temperature below 15 °C or above 45 °C requires Sample Conditioning Coil (included)

Voltage

TRANSIENT OVERVOLTAGES: up to levels of OVERVOLTAGE CATEGORY II
MAINS supply voltage fluctuations up to ±10% of the nominal voltage of 100 - 240 VAC 50 - 60 Hz
TEMPORARY OVERVOLTAGES occurring on the MAINS SUPPLY

Data communication

Analog output channels
Ethernet - standard RJ 45 / Wi-Fi capable
SCADA connectivity via Modbus TCP
USB
5 - 20 mA standard, with configurable output ranges

Enclosure Material

Stainless Steel
Measurement Range

1 -10,000 AFU / mL
Response Time

3 seconds (1 mL)
Physical dimensions

(WxHxD) 22.2"(56.4 cm) W x 24.25"(61.6 cm) H x 12"(30.5 cm) D
Monitoring location

At-line to drain
Flow rate

31 mL/min
Use

Indoor use
Environmental Temperature

6 - 35 °C (41- 95 °F)
Weight

73.4 lbs (33.3 kg)
Outlet connection

0.125" (3 mm) O.D.
Inlet connection

0.125" (3 mm) O.D.
Power Requirements

100 - 240 VAC 50 - 60 Hz 5A
Use the power cord included with the instrument
8.2' (2.5 m) cord length provided standard

Temperature (non-condensing)

6 - 90 °C (41-194 °F) Temperature below 15 °C or above 45 °C requires Sample Conditioning Coil (included)
Detection limit

2 AFU (Auto Fluorescent Units)
Type / Quality

Purified Water (PW), Ultrapure Water (UPW), Water for Injection (WFI)
Altitude

Up to 6562' (2000 m)
Material Number(s)

58045001
Flow Rate:30 mL/min – 100 mL/minFlow Rate:30 mL/min – 100 mL/min
Rapid, Reliable Measurement Results
The analyzer eliminates the variability and time-consuming nature of traditional plate counting. Its real-time microbial monitoring allows you to release water confidently without having to wait 5-7 days for results, thereby eliminating delays in product release.
Reduces Risk of Contaminated Water
When used in parallel with plate counting, the 7000RMS offers a rapid microbial method solution for better control of your water system. The constant monitoring gives you full visibility of changes in contamination levels to ensure water quality for release.
Easy to Operate User Interface
Unique features are available with the microbial detection analyzer to increase its efficiency, including a convenient touchscreen display with intuitive user interface and a user-defined alarm threshold for alert, action and breach limits.
Optimizes Sanitation Cycles
By using continuous trending data from the 7000RMS microbial analyzer, you can establish a baseline and monitor any shifts before and after sanitization to determine a cycle's frequency and effectiveness.