Balance XSR6002S
Smart Features Simplify Daily Tasks.
Accurate, reliable results and smart design features. 6.1 kg capacity; 0.01 g readability; integrated methods; results notepad; SmartPan weighing pan; 4 x USB; 1 x LAN; easy cleaning; LabX compatible
High-Performance Weighing
The high performance weighing cell and SmartPan weighing pan provide high stability and outstanding repeatability, even when working in fume hoods.
Efficient Touchscreen Operation
The touchscreen interface, easy-access menus, results notepad, and saved weighing methods make balance operation instinctive and efficient.
Patented SmartPan Weighing Pan
SmartPan provides exceptional stability, ensuring faster and more accurate results. You can even weigh at 1 mg readability without a draft shield.
Material No.: 30317453
Available for purchase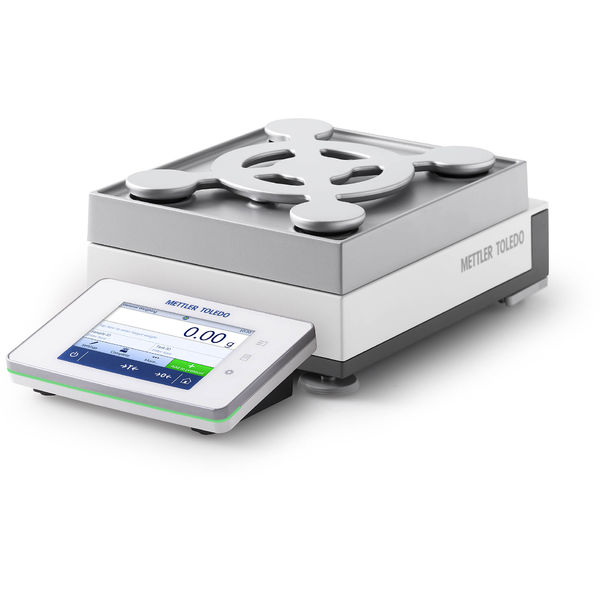 Product Family:precision00030100
Specifications - Balance XSR6002S
Maximum Capacity

6.1 kg
Readability

0.01 g
Repeatability, typical

4 mg
Settling Time

1.2 s
Adjustment

Internal (automatic/FACT)
Interfaces

USB-B (to device)
RS232 (integrated/optional)
USB-A (to device)
Bluetooth (optional)
Ethernet (LAN)

Display

4.5" color TFT touchscreen
User management

Password protection
Weighing Pan Size ( DxW) or Diameter

205.00 mm x 172.00 mm
Minimum Weight (USP, 0.1%, typical)

8.2 g
Linearity ±

20 mg
Weighing Pan Dimensions (WxD)

205 mm x 172 mm
Dimensions (HxWxD)

102 mm x 194 mm x 391 mm
Terminal size

4.5 inch
METTLER TOLEDO's Top Seller

Yes
Compliance Options

Data Integrity
Log history (21 CFR Part 11 Compliant)
Password protection
Log history (Basic Metadata)

Approved Balance

No
Balance Line

XSR
Balance Type

Precision Balance
Capacity

6,100 g
Mettler's Top Pick

Yes
Recommended for Biopharmaceutical

Yes
Balance Size (Depth)

391 mm
Features

Password protection
Leveling guidance
Supports 21 CFR Part 11 (LabX compatible)

Balance Size (Width)

194 mm
Recommended For

Chemical
Pharma
Food & Beverage

Preferred model

Performance
Documentation Options

Printing
Basic Electronic Documentation
Automatic Documentation (21 CFR Part 11 Compliant)

Balance Size (Height)

102 mm
Price

$$$
Linearity

20 mg
Family

Excellence
Level

Excellence $$$
21 CFR Part 11 Compliant Weighing

Yes
Automation Options

Automated Workflows
Secure Data Handling with LabX
LabX® software automatically captures results, performs all calculations, and saves all data in a secure database, providing a high level of process security and full traceability. Customized reports can be generated at any time.

Consistent Workflows
Save balance filter settings, process settings, and tolerances on the balance as individual methods. Easily accessed, methods offer a quick and convenient way to start tasks; every user follows the same procedures and results are always within tolerance.

At-a-Glance StatusLight™
StatusLight™ uses color to provide instant information on the balance status. Green means it's safe to weigh and results will be valid, yellow is a warning, perhaps that a routine test is due, and red means an issue must be resolved before weighing.
Ergonomic Operation
Placing the display at eye-level on the adjustable ErgoStand™ saves space and eliminates excessive bending of the neck. Optional remote switches simplify workflows, reduce process steps, and leave your hands free to handle samples and equipment.

Safe and Easy Cleaning
The supplied covers protect the terminal and housing and are easily replaced when soiled. The SmartPan and drip tray lift off and are dishwasher safe. The balance body resists harsh chemicals, whilst smooth surfaces and rounded edges make it easy to clean.

Benefit From Our Weighing Know-How
Our free GWP® Recommendation ensures you have the right balance for your weighing process. With years of weighing expertise, we can support you with balance selection, installation, cleaning, routine testing, calibration and maintenance.
Comprehensive Service Offering
Our services include installation and qualification, calibration, maintenance, and routine testing to ensure your balance is fit for purpose and meets industry standards and regulatory requirements. Customize your service package to meet your precise needs.

Accessories
CarePac®
Draft Shields
Excellence Refractometer Accessories and Consumables
Hands-free Accessories, Stands & Displays & Data Readers
Instrument protection
Interfaces, Cables and Power Supplies
Portable Refractometer Accessories and Consumables
Printers for Moisture Analyzers