Moisture Meters
Fast and Intuitive Digital Moisture Meters That Deliver Highly Reliable Results
A moisture meter is a device made up of a weighing and halogen heating unit to determine the moisture content of a sample. Many industries rely on it for the quality control and production of, for example, plastic granules, pellets, and resin, and food products such as grains, seeds, rice, and wheat. Through precision weighing and temperature control, our digital moisture meters provide highly reliable results. They are also easy to use and their sturdy construction ensures a long lifespan.
Add 1 or 2 more products to compare
Advantages of METTLER TOLEDO's Moisture Meters
Select the Best Moisture Analyzer for Your Food Samples
Watch this short video to learn about the key factors to consider when choosing a moisture analyzer in the food industry.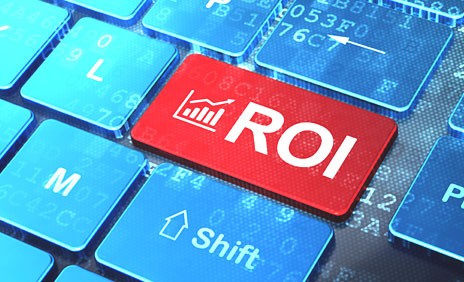 Fast Return on Investment
Fast and reliable moisture in food results help you increase productivity, optimize processes and save money.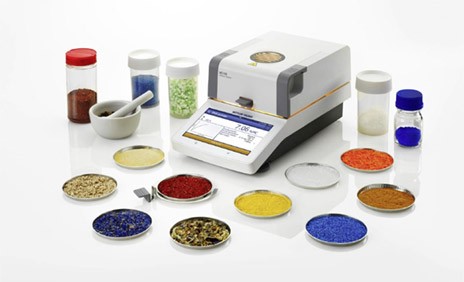 Accurate Results for All Types of Food Samples
Benefit from highly reliable and precise moisture analysis results for food, thanks to fast halogen heating and advanced weighing performance.
Moisture Content Results in 2 Minutes
By using the QuickPredict function in production control, you can reduce the time-to-result from 5-15 minutes down to 2 minutes. This enables you to make fast decisions so you can control your food production processes in a timely and efficient manner.
Highly Precise Results: HX204 and HS153 Food Moisture Analyzers
Get highly accurate and repeatable moisture results for all your food ingredients, food samples, and final food products.
Measure a Variety of Food Samples
The HC103 moisture analyzer has a compact and solid design perfectly suited to both laboratory and production environments. With touchscreen user-guided operation, it is easy to analyze moisture content in all your food samples.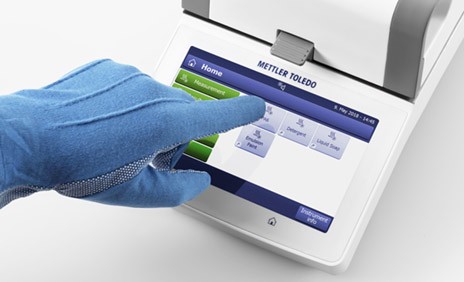 Intuitive and User-Friendly Operation
Simplify your workflows with OneClick™ operation, method shortcuts and full user guidance. Easy to use, even for untrained users or shift operators.
Suitable for the Factory Floor
The strong housing and robust components ensure a long instrument lifetime, even in harsh conditions.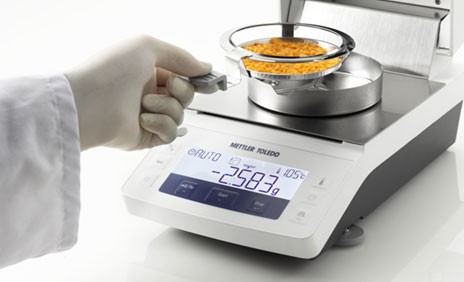 Basic Food Moisture Analyzers
HE53 and HE73 moisture analyzers are the ideal choice when you need fast and reliable moisture content measurements of your food samples and are working on a tight budget.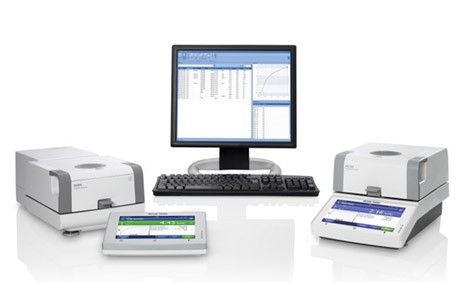 Easy Data Management
Transfer your results via USB, Ethernet, Wi-Fi and RS232. Our EasyDirect™ Moisture PC software enables you to save results in a SQL database and generate graphical reports. Or simply use a network or connected printer to print your results.
FAQs
What is the best moisture meter for my application?
It can be challenging to find the right moisture meter for your application. Your choice will be determined by both your individual and business needs. Besides measurement performance, other factors such as ease-of-use, data management capabilities, and robustness (long instrument lifespan) are also important.
Click the links below to find more information about METTLER TOLEDO's comprehensive range of reliable moisture meters that can fulfill your basic, all-around, or high-performance needs. View our useful guide that can help you choose the best moisture meter for your application.
Overview - Moisture Meter
Food Moisture Meter

Plastic Moisture Meter