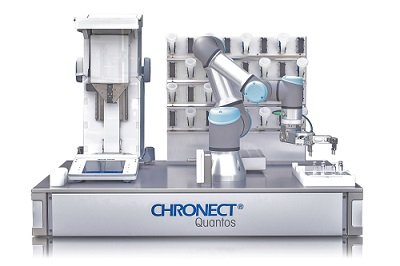 Axel Semrau - CHRONECT Quantos
The Request:
Axel Semrau is a German company specializing in lab automation and integration of instruments with over 30 years of expertise. Until now their solutions could cover all analysis steps, with exception of one. This was multi-sample solid compound preparation.

The Solution:
Steps that were previously carried out on an analytical balance are now performed on a built-in XPE Analytical Balance with a Q2 Dosing Head – enabling fully automated end-to-end solid sample preparations for further analysis.

Collaboration Benefits:
Best in market powder dispensing system, one solution that offers accurate and consistent dosing for the smallest solid samples from 1 mg up to several grams.
Read More Information on the Collaboration with Axel Semrau!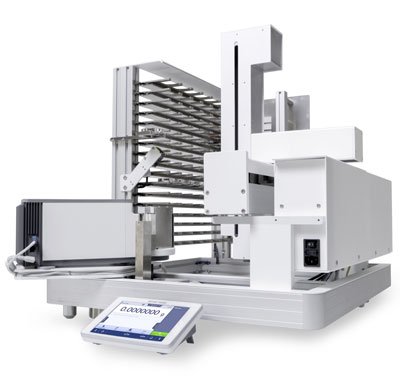 HORIBA – PFS-ONE Filter Weighing
The Request:
HORIBA is a Japanese company and one of the leading manufacturers of automotive testing equipment. End-users confronted with stricter regulations and more stringent measurement conditions turn to an automated filter weighing solution.

The Solution:
An ultra compact XYZ robotic solution, that fits into even the smallest existing workspace, which enables over 150 filters to be measured at highest accuracy (down to 0.001mg). It includes an integrated ionizer for quartz and teflon filters, and 2D sample identification.
Collaboration Benefit:
Exchanging know-how and evaluating requirements led to new innovative solutions for fast and consistent weighing under difficult conditions. A high quality product that can be supported and serviced world-wide.
BD – Becton Dickinson – IV Prep Pyxis
The Request:
BD is a global medical technology company that leads the way in patient and health care worker safety and the technologies that enable medical research in clinical laboratories. Intravenous medicine preparation requires a balance that is robust, easy-to-use, but also has the capability to record exactly who has done what and when.

The Solution:
The combination of a modified XSR4002 balance on a stand, with camera and barcode scanner, connected to a medical registration system, allows documentation of all steps with weight, identification and image for seamless traceability providing maximum user and patient safety.
Collaboration Benefits:
Our weighing expertise overcomes challenging requirements to deliver a product that fulfils all requirements in a demanding environment. Additionally, any user is assured of the same quality, support and service of our solution world-wide, thanks to a validated documentation, testing and release process.
Read More Information on the Collaboration with Becton Dickinson!
Your Company – Your Specific Solution Could Be Next
Like to Know More? Read the FAQ's
What are the benefits for us?
A high quality product that gives peace of mind, needs little attention, has a high up-time, extensive life-time and low Total Cost of Ownership (TCO), saves you installation and support cost, and your end-user too. Furthermore, you benefit from a wider brand awareness, since collaboration solutions can also be presented and promoted through our channels.
How do you consider whether a collaboration is possible or not?
Every new collaboration is evaluated on a case by case basis. We strive for a long-term relationship where the focus of the collaboration is to offer your end-user the best price and performance ratio for your business.
What kind of product and/or service is possibible?
Solutions from small adapted balances to specific automated solutions based on existing platforms are possible. Thanks to our high quality Swiss products and our professional world-wide service organisation, you profit from world-wide warranty, support and on-site service when required.
Can our products also be offered through MT?
As our collaboration examples show, we are proud to present and promote our collaboration solutions through our marketing channels. However, Mettler Toledo keep their sales focus on the established field, so we will hand over sales leads from all over the world to your organisation for successful follow-up.
How does the collaboration process work?
After your initial request, we will contact you to evaluate the technical solution and business opportunities together. If this proves to be mutually positive, then we will set up a project schedule, with conditions and requirements, that addresses the next phase of work, to the point where the first prototypes can be reviewed and tested. When the final design is fixed, the scope of delivery, logistics and sales & support channel can be defined. As soon the Factory Acceptance Test (FAT) is signed off, the first products will be shipped according your specifications.