Balance XPR26PC
The High Speed Solution.
The XPR26PC allows accurate, fast, and touchless pipette verifications according to ISO8655 from 1 - 100 μL. Supported by Status Light, Level Control, and Internal Calibration, you can rely on your results every time.
ISO8655 Down to 1 µL
XPR26PC fulfills the requirements of ISO 8655 for volumes ≥ 1 µL. The outstanding performance ensures accurate results, even for ultra small volumes
Fast and Ergonomic
Touchless and fast operation, thanks to the motorized lid that only opens when passing the pipette through the light barrier
Non-Stop Testing
The large 10 mL waste container enables you to pipette 10 μL 1,000 times before it needs emptying. This uninterrupted process is extremely efficient
Material No.: 30355534
Available for purchase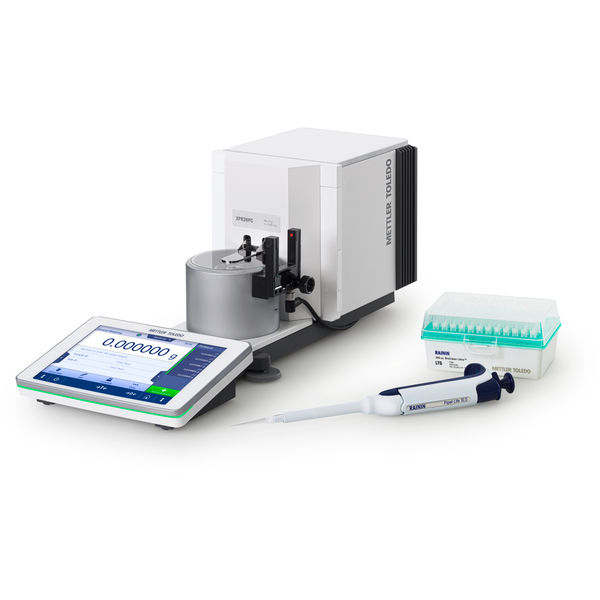 Product Family:analytical-balances00020091
Specifications - Balance XPR26PC
Maximum Capacity

22 g
Readability

0.001 mg
Repeatability, typical

0.0007 mg
Minimum Weight (USP, 0.1%, typical)

1.4 mg
Connectivity

3 x USB-A (Printer, mouse, keyboard, barcode reader) 1 x USB-B (EasyDirect PC Software)
Ethernet
USB-B

Legal for Trade

No
Settling Time

3.5 s
Repeatability

0.0015 mg
Linearity ±

0.003 mg
Adjustment

Internal / proFACT Advanced
Guaranteed Repeatability

0.002 mg
Dimensions (HxWxD)

292 mm x 195 mm x 485 mm
Readability (Certified)

0.001 mg
Material Number(s)

30355534
Maximum Capacity:22 gMaximum Capacity:22 gReadability:0.001 mgReadability:0.001 mgMinimum Weight (USP, 0.1%, typical):1.4 mgMinimum Weight (USP, 0.1%, typical):1.4 mgAdjustment:Internal / proFACT AdvancedAdjustment:Internal / proFACT Advanced
Traceable to ISO Standards
Our optional Calibry PC software guides you through your testing procedures, keeps a database of results, and informs you when upcoming tests are due. Customized reports can be generated at any time. Calibry supports you with ISO 8655 and 21 CFR part 11 requirements
Balance Status at a Glance
The built-in StatusLight™ uses color to let you see at a glance if the balance is ready for use (green), if a routine test or calibration is due (yellow), or if there is an issue and the balance is blocked (red).

Easy Balance Leveling
At 6-place readability, even small deviations in levels can cause significant measurement errors. To avoid this, LevelMatic provides a warning and quickly guides you to level the balance

Efficient Balance Testing
An accurate balance means accurate pipettes. Our CarePac weight set with OIML/ASTM 1 g and 20 g weights is perfect for routine performance verification of your XPR26PC

ISO8655 Reporting
Our Calibry PC software is perfect for in-house pipette management and helps to speed up your ISO verification processes. It is also ideal for professional pipette service providers

Ergonomic Workplace
The special weighing table consists of two independent tables, which prevent user vibrations from reaching the balance. They can be adjusted to obtain the best ergonomic position for efficient and secure working throughout the day

Documentation
Datasheets

Download this datasheet to learn more about specifications and accessories of XPR26PC.
Accessories
Pipette Check