SevenCompact Advanced pH Meter Line
SevenCompact™ - Versatile and Universal pH and Conductivity Meters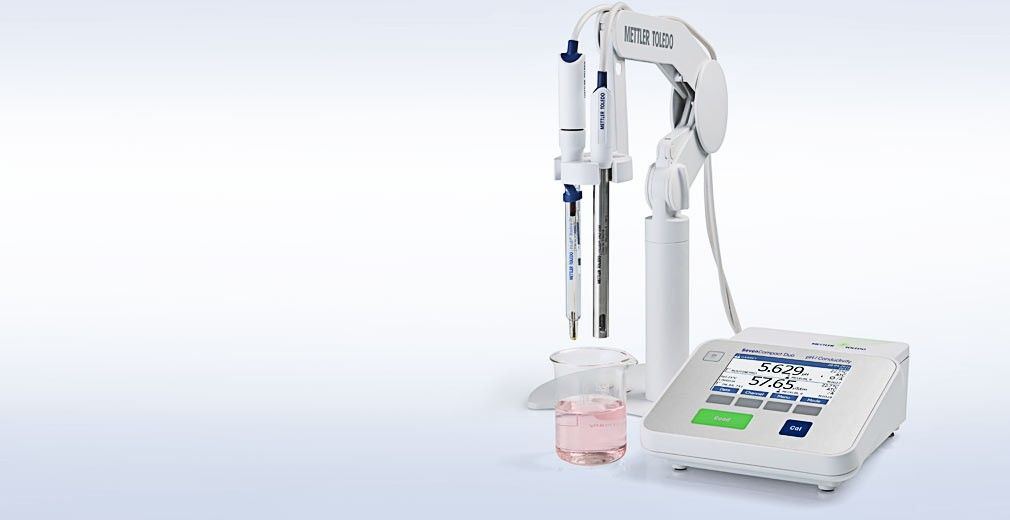 Robust and Intuitive with Full GLP Support
The SevenCompact™ pH-meter series offers versatility, ease-of-use and durability.
This benchtop pH-meter is ideally suited for various industries such as pharmaceutical, food and beverage and chemical. Optimal measuring specifications ensure great performance in all pH and conductivity measurements.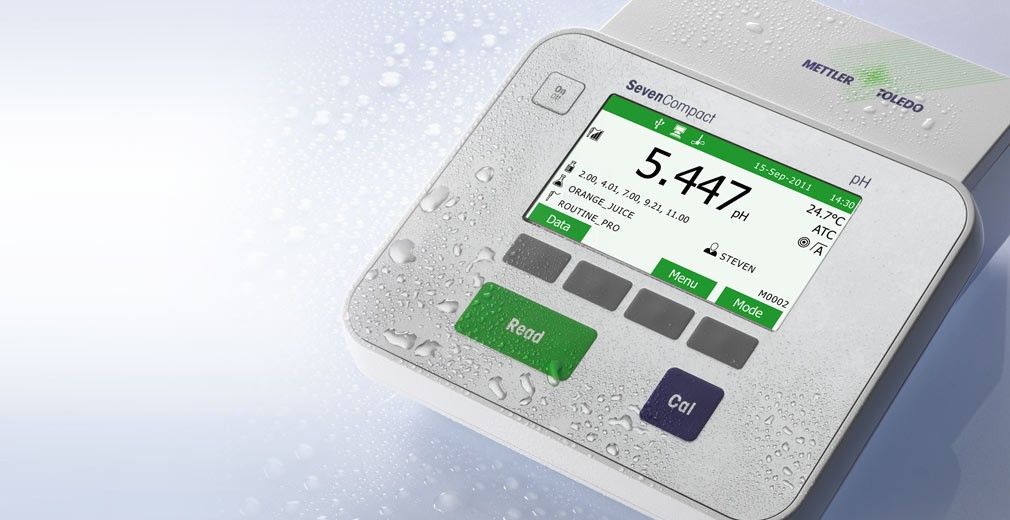 Durability for a long-lasting Investment
SevenCompact's robust design and high quality materials make it a durable pH instrument on your bench.
To maximize lifetime, pH meters have been designed to withstand dust and spills. In addition, comprehensive service and after sales support guarantees smooth operation years after initial, certified installation.
IP54 Water and Dust Resistant
The SevenCompact™ meters are built to last by withstanding spills on the housing and connections. This provides protection while allowing for easy cleaning with a damp cloth.
Transparent Protective Cover
This clear, protective cover comes with the instrument and can be left on during operation without affecting any key press functionality. When not in use, this cover provides an extra layer of protection to maximize the life of your instrument.
Quality Materials
 
METTLER TOLEDO ensures quality instruments by selecting electronic components and packaging specifically designed for high precision and long lifetime.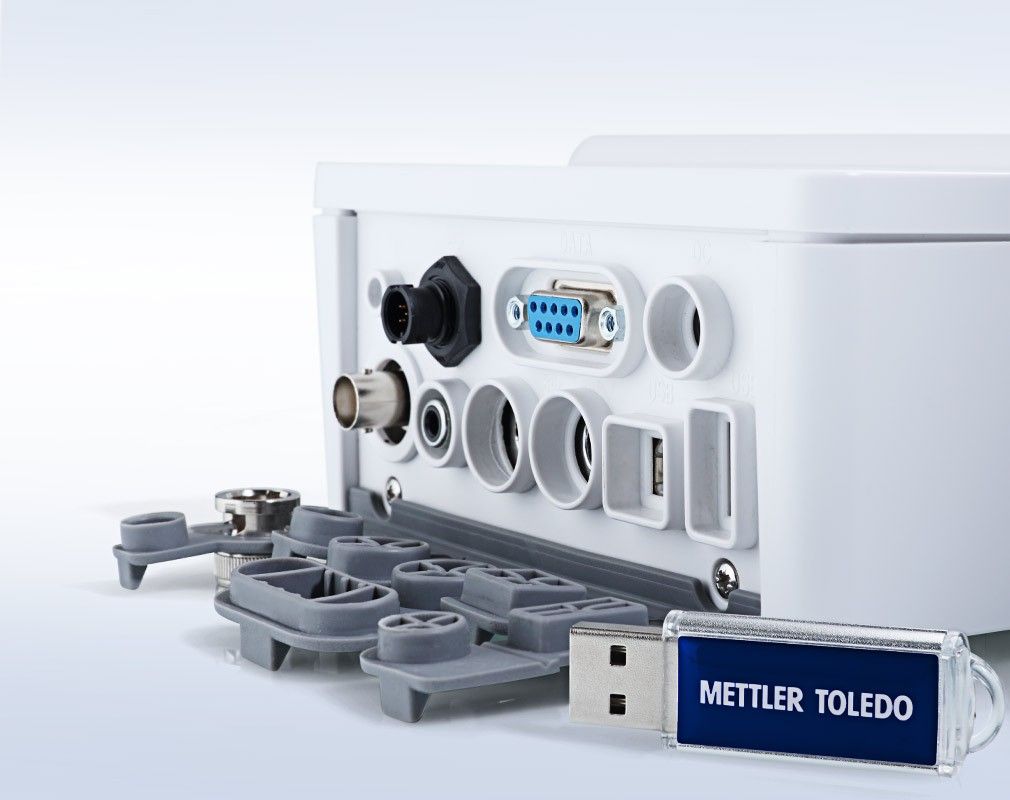 Protection for the Connectors
For extra protection, rubber caps cover the connectors, which are the most vulnerable points of the instrument, keeping water and dust out. The caps are connected on one side of the housing, so there is no risk of losing them.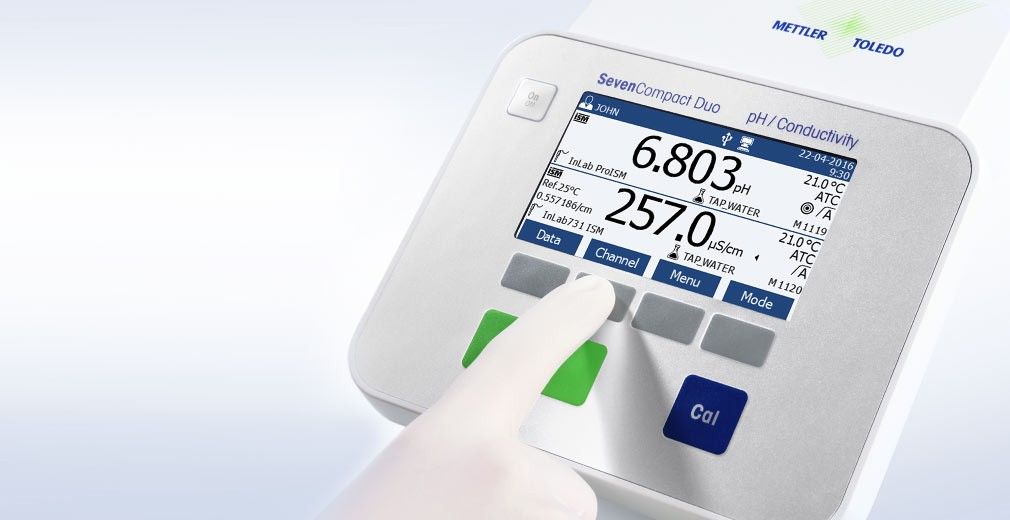 A Reference for Intuitive Operation
The operation of the SevenCompact™ pH meter series is intuitive, allowing measurements to start immediately. The large and clearly arranged color display makes relevant information identifiable at a glance. The functionality of the SevenCompact™ series has been designed to maximize your productivity.
Starting a measurement or calibration, toggling between measurement modes, or switching between display layouts requires only a single keypress. For adjustment of settings, the SevenCompact™ offers menus with full sentences in 12 languages.

Clear and Simplified
User Menu
A single keypress is all that's needed to start a measurement or toggle between measurement modes. "Read" and "Cal" buttons simplify these tasks, leaving no uncertainty in operating the instrument.
Show Essential Parameters with uFocus™
uFocus™ allows you to view only relevant and important information on the screen. Essential parameter measuring results are easily seen and read, keeping your measurement results the main focus.
Full Sentences in Different Languages
For adjustment of settings, the SevenCompact™ offers menus with full sentences in 12 languages for S213 meter and 13 languages for S210, S220 and S230 meters. Reduce uncertainty and cryptic expressions by operating the instrument in the language of your choice.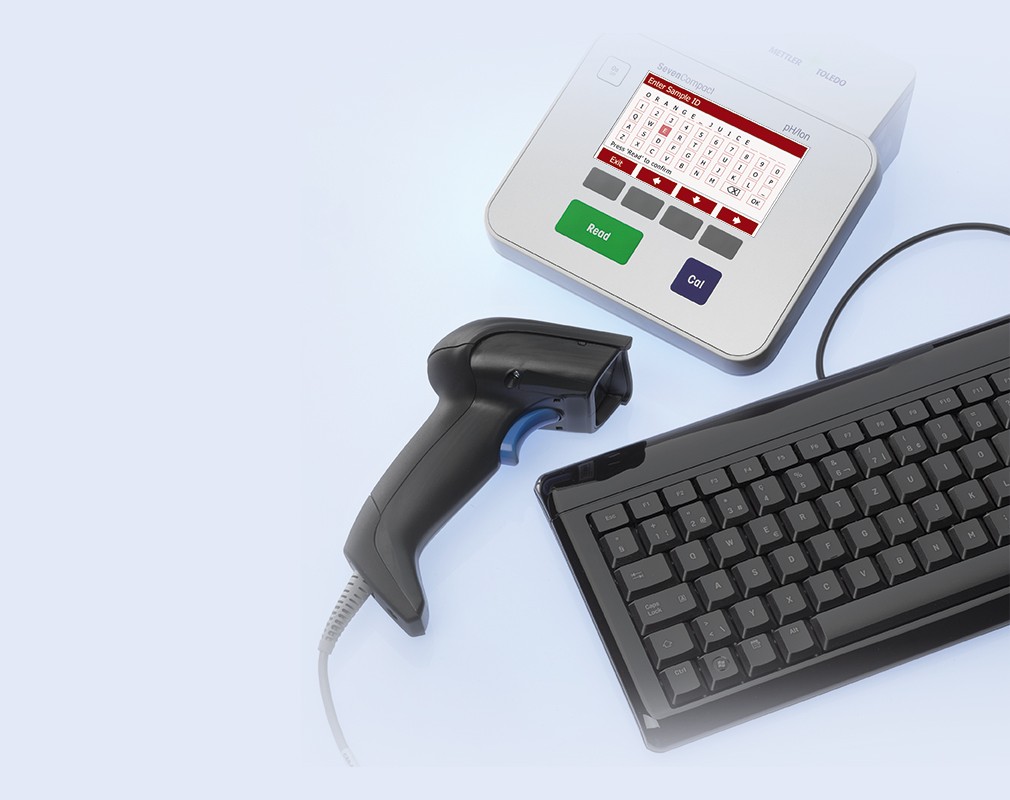 Useful Accessories for Versatility
SevenCompact™ is a powerful instrument in standalone mode, but with peripherals from METTLER TOLEDO its possibilities are greatly enhanced. Our focus is ease of use, ensuring that daily operation and installation of sensors and peripherals is as easy as possible.
Connect various accessories such as barcode reader, keyboard, USB stick, USB printer or a PC with EasyDirect™ pH software to boost SevenCompact's flexibility and efficiency. Workflow efficiency is increased with the uPlace™ sensor stand and the uMix™ stirrer.
Printers and Barcode Reader
The SevenCompact™ series supports printers with RS232 and USB interface. In addition, the multiple USB ports allow for connection of a barcode reader. Both accessories are plug and play, allowing for immediate use of the tool after connection.
uMix™
Magnetic Stirrer
The uMix™ magnetic stirrer provides an extra degree of flexibility for methods. Stirring can be set up individually for measurement or waiting steps in your method, and the stir speed adjusted depending upon sample's vessel size and viscosity.
EasyDirect™
Software
Connect your meter to EasyDirect™ pH software to improve your data management. Software setup is simple, and allows seamless transfer of data from your pH meter to your computer. The application will store unmodified data for printing or analysis. Capability to export the data to Excel or any other .csv application as you see them, unlocks even more possibilities for data analysis.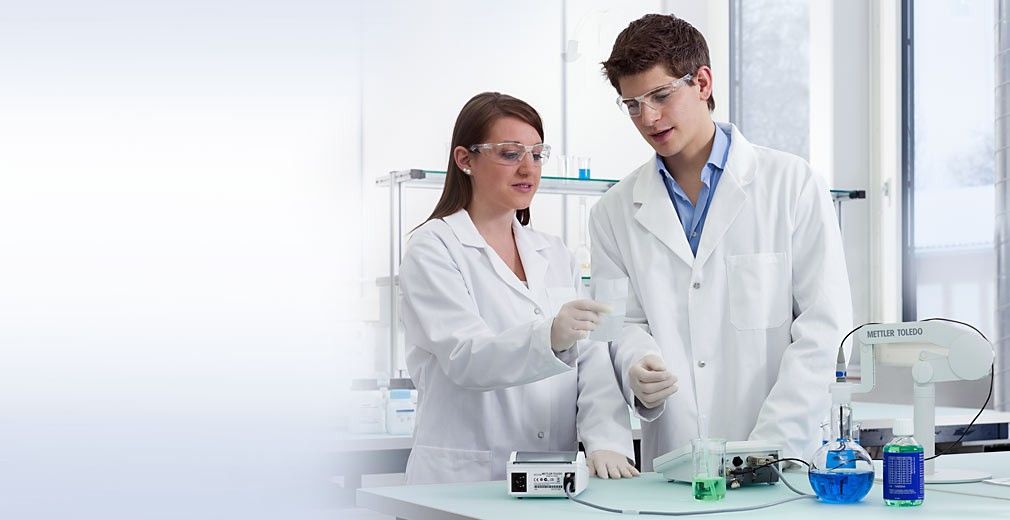 Complete Electrochemistry System
pH measurement does not depend only on your pH meter. All components in your system must be working at their best to provide reliable results.
Ensure your electrochemistry system is complete by choosing the right sensor, solutions and installation services for your specific needs.

Sensors
The complete InLab® sensor portfolio covers the whole scope of pH applications. These range from routine measurements to specialist applications. To find your perfect match, visit our Sensor Product Guide today for an interactive way to the right sensor
Sensor Product Guide
Solutions
METTLER TOLEDO offers a comprehensive range of top quality buffers, standards, electrolytes, cleaning and verification solutions for determination of pH, conductivity, ion concentration, ORP and dissolved oxygen. All solutions are available in bottles or single use sachets.
More about Solutions
Service
We offer different service packages depending on your needs. These range from professional on-site installation and configuration to documented proof of compliancy. If full coverage beyond initial warranty is desired, we offer an extended care package in the form of preventive maintenance and repair.
More about Service
FAQ
What a SevenCompact™ benchtop meter can be used for?
SevenCompact™ is a universal, state-of-the-art pH/Ion/Conductivity/ORP meter for a wide range of applications, from routine measurements to sample analysis, data handling and data archiving in compliance with GLP regulations. It gives you the choice to view all measurement information on the display or to focus on the essentials with the uFocus™ view. Switching between the different display layouts is easy, requiring only a single keypress. The new color display with its well-designed icons and menu settings in 12 languages makes operation genuinely intuitive. This is simply an innovative design that meets the requirements for a universal, easy-to-operate meter. The included electrode holder with the perfectly vertical uPlace™ movement helps you bring your electrode in the position where it works best for your sample. This allows for faster measurements and reduces the risk of the sample vessel tipping over and/or damaging the sensor.
Further reasons for choosing the SevenCompact™:
User friendly instrument for demanding users.
Security and high reproducibility thanks to Intelligent Sensor Management (ISM®)
Improved quality of measurements by means of professional calibration support
IPac Equipment Qualification including IQ/OQ ensure perfect start
Integrated USB and RS232 interfaces for data exchange
METTLER TOLEDO offers pH, ORP, conductivity, ion-selective and dissolved oxygen (DO) sensors. Find the best suited sensor for your application here: www.mt.com/electrode-guide

Improve your electrochemical processes and learn more about possible risks. The GEP Risk Check, a systematic approach to maximize accuracy and repeatability, will point out where you could do better and suggest possible ways to get there.
Is it possible to send data from SevenCompact™ to a laboratory information system (LIMS)?
Via RS232 cable: connect the PC or server via RS232 to SevenCompact™. Define automatic transfer to storage with logging to interface and define the interface to be a printer. Then SevenCompact™ sends each result to RS232 (baud rate 1200, data bits 8, stop bit 1, no parity, no handshake) with the identical layout as a printout would look like. Let LIMS analyze this continuously sent data.
Via USB cable: Connect a PC via USB to SevenCompact™ and run EasyDirect™ pH software on that PC. Define automatic transfer to storage with logging to interface and define the interface to be Easy direct pH. In EasyDirect™ pH set data transfer to a txt file (and not to Excel). Configure any layout of that txt file. Let LIMS read out this file whenever a measurement is done.
Is ISM® supported with SevenCompact™?
ISM® stands for Intelligent Sensor Management. Every ISM® marked sensor contains a chip that saves relevant data and exchanges them with the meter.
The saved information comprises the following data:
Values, name, serial number, date and time of the certification made at the end of the production at the factory
Values, date and time of the last five calibrations
The maximum temperature that the sensor has ever been exposed to
This allows for better data security, monitoring of the sensor history and eases handling of the sensor when used with different meters capable of reading ISM® sensors.
The SevenExcellence™, SevenCompact™, Seven2Go™ and SevenGo Duo™ meters incorpo­rate Intelligent Sensor Management (ISM®)