Photometric sensor
Photometric sensor for determination of metal ions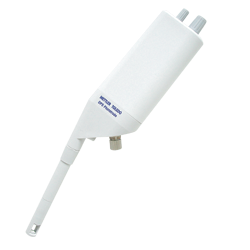 Many titration tasks, such as the automated determination of metal ions with EDTA, photometric indication using a color indicator is the best solution. In addition, the detection of turbidity changes is frequently used for titrations, e.g. for the automated determination of surfactant content. METTLER TOLEDO offers a multitude of methods for various applications using the DP5 Phototrode™.
Products and Specs
Products and Specs
Filter:
Set filter
Clear All
Short description
Applications
Short descriptionPhototrode with 5 selectable wavelengths
ApplicationsComplexometric; two-phase titration
Documentation
Services
Explore our Services - Tailored to Fit your Equipment
We support and service your measurement equipment through its entire lifecycle, from installation to preventive maintenance and calibration to equipment repair.