Universal Control Box
Measure and Control Reaction Parameters.
Enhance your reaction knowledge
Regardless of the type of sensor or control device used, the Universal Control Box (UCB) supports measuring and controlling reaction parameters.
Record all your critical data
The UCB allows connection to any analog sensors recording critical parameters such as temperature, pressure, turbidity, pH, and many more.
Control all your critical parameters
The UCB provides controllable outputs (voltage, current, frequency, PWM) for connecting valves and pumps, and RS232 ports for balances.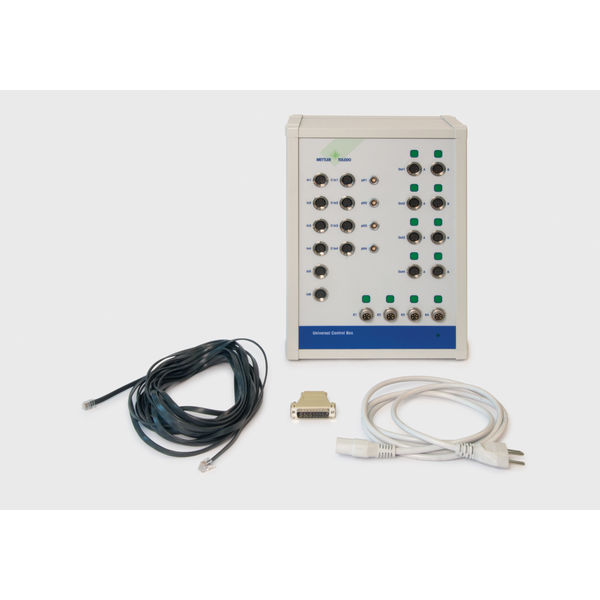 Specifications - Universal Control Box
| | |
| --- | --- |
| Material | Stainless Steel; Plastic-coated; Aluminum; Powder-coated |
| Dimensions (LxHxW) | 263 mm x 355 mm x 150 mm |
| Inputs | -10 to +10 V; 0-20 mA; Pt100; pH 0 -15 |
| Outputs | 0-20 mA; 0 – 10 V; 1 - 2 Hz; PWM 24V; Relays 30 VDC; VAC |
| Communication | RS232; RS422 |
| Power Requirements | 101 - 240 V; 50/60 Hz |
| Weight | 4.6 kg |
| Material Number(s) | 51161390 |
Material:Stainless Steel; Plastic-coated; Aluminum; Powder-coatedMaterial:Stainless SteelMaterial:Plastic-coatedMaterial:AluminumMaterial:Powder-coatedDimensions (LxHxW):263 mm x 355 mm x 150 mmDimensions (LxHxW):263 mm x 355 mm x 150 mmInputs:-10 to +10 V; 0-20 mA; Pt100; pH 0 -15Inputs:-10 to +10 VInputs:0-20 mAInputs:Pt100Inputs:pH 0 -15Outputs:0-20 mA; 0 – 10 V; 1 - 2 Hz; PWM 24V; Relays 30 VDC; VACOutputs:0-20 mAOutputs:0 – 10 VOutputs:1 - 2 HzOutputs:PWM 24VOutputs:Relays 30 VDCOutputs:VACCommunication:RS232; RS422Communication:RS232Communication:RS422Power Requirements:101 - 240 V; 50/60 HzPower Requirements:101 - 240 VPower Requirements:50/60 HzWeight:4.6 kgWeight:4.6 kg